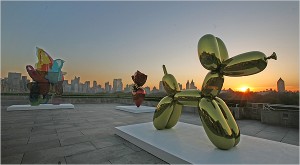 The rooftop garden at the Metropolitan Museum of Art seems to be summer's well kept secret to out-of-town visitors.  Formally known as the Iris and B. Gerald Cantor Roof Garden, this special retreat overlooking Central Park was funded by them as a gift and is open during the summer months.  A garden, terrace and restaurant, this delightful place is many things to many people. But before I get into that, let me go back…
Fifty four years ago on a college trip to Europe with classmates and chaperones (Yes, chaperones, it was 1957 after all), I met a young man with whom I shared an intimate relationship and an absolutely amazing time during our tour of nine different countries over the period of three months. We were both engaged to other people and after the trip we married other people and never expected to ever see each other again. Then, 50 years later, through Classmates online, I got an e-mail from him.  His wife had died of bone cancer after a good marriage and three children.  Mine ended in divorce, no children, eight years after the European jaunt.
Although living miles apart at that time, we met again at the roof garden one June day, more than 50 years later to the day of our sailing for Europe in college.  Much grayer, much heavier, and very much older, we started conversing, laughing and acting young again as if no time had gone by at all.  I could still see the soft spoken young man with dark curly hair and a crooked smile.  I don't know what he saw, but I hoped it was the blue-eyed, vivacious, witty young girl I used to be.  We walked through the piece of art that was on display called "Big Bambu: You Can't, You Don't, and You Won't Stop" by the two brothers, Doug and Mike Starn.  It was put together with thousands of pieces of bamboo through which visitors could pass.  However, the breathtaking view and the art on exhibit barely caught my eye as we looked at each other and knew that another fifty years would not go by until we met again.  And after he asked those four magical words, it didn't.