Introduction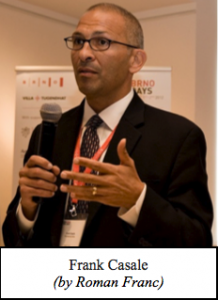 On October 2nd, The Bohemian National Hall hosted several business and medical leaders for an event about their experiences in Brno, Czech Republic. Brno, pronounced Bur-no, is located in South Moravia and is the second largest city in the country. The largest city is Prague the country's capital. The opening day of the Brno Days event concentrated on the cultural contribution of the Villa Tugendhat and its distinct architectural influences. The last day focused on the myriad business opportunities available to potential investors. During the first two presentations, many speakers highlighted Brno's burgeoning medical research industry. The remaining presentations emphasized the other business prospects in different fields ranging from architecture to information technology. The presenters avidly supported the city and recognized that Brno was a major factor in their companies' successes. Each speaker endorsed Brno's government support, central location, quality universities, and talented citizens.
The morning section of Brno Days 2 began with an introduction and an admirable attempt at speaking Czech by Frank Casale, the founder and the CEO of The Outsourcing Institute. His opening comments spoke to the realities of globalization and the increased demand for outsourcing. Casale stated that companies are looking for places other than India and China to find a higher skilled workforce. Brno, he argued, is the location for "outsourcing 2.0." He contended that the key factor in deciding on a location to do business is the people. He continued by saying Brno's citizens are skilled, well educated, and take pride in their work. Casale stressed Brno's infrastructure and local government support of investment which would present more opportunities.
Brno in a Nutshell with 5 Reasons to Invest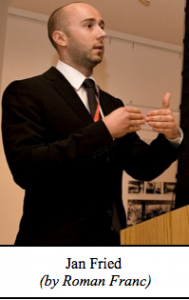 Jan Fried, a Director of East Coast Operations at CzechInvest, gave a presentation on Brno that painted a basic economic picture of the city. He provided a quick overview of Czech history. Czechoslovakia formed in October 1918 after World War I and the collapse of the Austro-Hungarian Empire. During World War II, the country was invaded and occupied by Nazi Germany then controlled by the Soviets during the Cold War. The peaceful Velvet Revolution occurred in 1989 and Czechoslovakia was reformed into a parliamentary republic. Czechoslovakia. In 1993, the country split into the Czech Republic and the Republic of Slovakia. In 1999, the Czech Republic became part of the North Atlantic Treaty Organization (NATO) and in May of 2004 the country become a member of the European Union (EU). The country is roughly the size of New York State and has about 10 million citizens. The official language is Czech and the currency is the Czech koruna (CZK).
Fried also provided important economic statistics: unemployment at 8.6%, GDP growth at 1.7%, and annual inflation at 1.9%. Despite these figures, South Moravia attracted the most foreign investment. He explained that the region has over 80,000 students and graduates over 18,000 a year. South Moravia is ranked second and above the Czech average for R&D expenditures. Fried highlighted Brno's strategic location as "Central Europe's Most Central City." There are four main rail lines and several international roads and country highways leading to and from the city. The city is a close proximity to Bratislava, Budapest, Krakow, Munich, Prague, and Vienna. Brno's international airport services flights to many locations including multiple weekly flights to London, Milan, Moscow, Rome, and Eindhoven.
Fried concluded his presentation by describing the benefits of Brno. He stated that the corporate income tax is 19% and that the S&P rating in August 2011 is AA- or stable. There are EU funds available called OPEI up to 60% of eligible costs for wages and long-term assets can be provided. The Czech Republic also grants up to $75 million in strategic investment and provides transfer of a land at a discount with corporate tax reliefs for up to 10 years. The state also provides several different types of grants including job creation, training, and retraining. Brno is ranked 5th in British investment journal fDi's Top 10 Eastern European Cities Foreign direct investments Strategy. In 2011, the New York Times named South Moravia "one of Central Europe's fastest-growing regions." Fried provided five reasons to invest: geographic location, well educated and skilled work force, favorable labor costs, proven R&D capabilities, and an attractive investment climate. He explained that the industries with investment priority in Brno are: advanced automotive, aerospace, business support services, CleanTech, electrical engineering and electronics, high-tech mechanical engineering, IT and software development, life sciences, and nanotechnology. Fried provided a comprehensive background on Brno with everything a prospective investor would need to know about the city.
The Euro Zone Crisis, the Global Financial Crisis, and Brno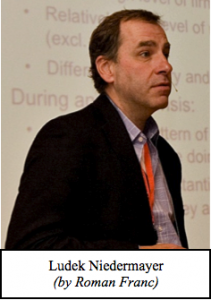 Ludek Niedermayer, a Director at Deloitte Czech Republic and former Vice-Governor of the Czech National Bank, provided a general overview of Europe and its economic standing. Niedermayer claimed that there are three weak points to the European Union: 1) weak fiscal policy, 2) slow growth, and 3) overarching financial market regulations. Even with these issues, Niedermayer believes that the EU's single market and the Euro work relatively well. He claimed that before the Euro Zone crisis, the EU was doing well because of pro-business policies and slow growth. The Global Financial Crisis has caused many governments in the EU to implement austerity policies in the hopes of eliminating their debt at the cost of economic growth. EU countries that are in the Euro Zone, like the Czech Republic, are still affected and have also implemented similar policies. This has caused a slowing of economic growth throughout Europe even having some economics dipping back into a recession. Despite some of these issues, political leaders in Europe feel that it is imperative to balance their budgets in order to move forward.
However, at Brno Days Niedermayer asked that "no one write Europe off yet." Central Europe, he argued, is still highly competitive. The European governments, like that of the Czech Republic, have pro-business policies, good governance, and reliable infrastructure. On a recent interview with Bloomberg Radio, Niedermayer stated that the Czech financial sector "is one of the strongest sectors in the [Czech] economy." The main problem the Czech Republic faces is slow economic growth which has led to a recession for the last three quarters. He states the three main weaknesses are: "low quality public policies, low efficiency of the public sector, and the unpredictable way of doing fiscal consolidation." Weak domestic demand has been a result of these policies. Czech exports have had slow growth because 80% of exports are bought by EU countries. The short term outlook for the Czech economy in the near future is not favorable, but there are signs of improvement.
Niedermayer argued that the Czech Republic is stable, with a low level of private and public debt. The quality of labor is high for the cost and provides qualified personnel for different fields including R&D. He believes there will be progress in Europe and is optimistic that a solution will be made. Recent news states that "[the Czech] koruna has strengthened 0.4 percent to the euro." Moody's Investors Service stated that this progress is due to the Czech trade surplus and budget deficit cuts that have reinforced confidence in Czech bonds. The koruna has the third best performance in recent months for the major emerging markets. Although the news seems poor in the short term, the long term economic growth of the Czech Republic and Brno appears to be improving.
Brno is Endorsed by Business Leaders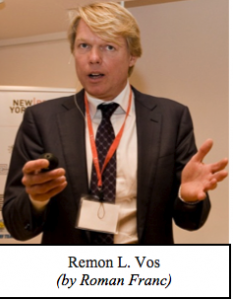 Remon L. Vos, the co-founder and CEO of CTP, was also a presenter at Brno Days supporting the city. CTP constructs and supervises business properties in Central Europe. The company has doubled in size in five years. In Brno, CTP has built Spielberk Office Centre that holds over 400 clients. Vos attributes much of his success to the city and agreed with the other presenters that the education, location, focus on R&D, and high quality of life were great reasons to work in Brno.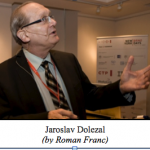 Through his amicable demeanor, Vos provided many insights on prospects in Brno and the Euro Zone Crisis. He admitted that the situation in Europe "was not good" and still "has room to improve." However, the "Czech Republic is [still] strong" and still "has many opportunities." Vos said businesses needed to move quickly to snatch up these prospects and need to be gutsier when looking for a location to establish their offices. He suggested that companies "move their manufacturing and R&D into one building" so both departments can communicate better and more efficiently. He advocates that companies "stick with it [and] follow this story" of Brno's "high end activity." Brno will have "long-term development" and will be a major center in about "10 years' proof."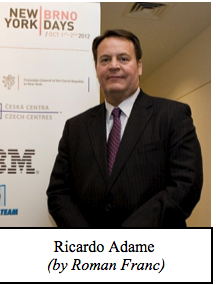 Vos offered Honeywell as proof of a forward thinking company establishing itself in Brno and generating success. Jaroslav Dolezal, Honeywell's National Executive in the Czech Republic and Brno Days speaker, confirmed that their excellent workforce and advanced manufacturing was essential to their achievements. In the last five years, Honeywell in Brno has been recognized as a main hub of innovation. Dolezal added that the jobs in Brno were not being taken away or stolen from other places. Brno, he argued, was a great location to build long term relationships and establishing offices that provided American and European companies the opportunity to service and access the Central European markets. Similarly, Ricardo Adame, from AVG, endorsed Spielberk Office Centre and Brno as profitable locations for businesses. His presentation demonstrated AVG's successes in cybersecurity and protection software. AVG was founded in Brno and after 22 years was admitted to the New York Stock Exchange. He attributed this success to the employees and praised their innovation, talent, and education. Each of these companies' accomplishments demonstrates the ample opportunities within Brno. They also exemplify the potential achievements of any company with the correct foresight to establish themselves in the developing city.
Conclusion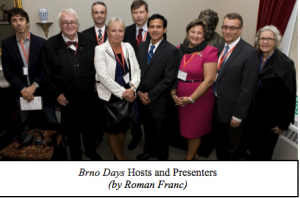 With the conclusion of the Brno Days event, the presentations succeeded in projecting an emerging city filled with many different prospects. A great number of people listened to the enthusiastic group of speakers describe the litany of available resources of Brno. The Brno Days presentations were organized by the Consulate General of the Czech Republic in New York, the American Chamber of Commerce in the Czech Republic and the Czech Center New York. Similar events included two previous regional events on the cities of Zlin and Ostrava. The Consulate also organizes economic presentations of leading Czech industries. Biotech, Clean Tech, and IT are just some of the sectors that coordinate with the Consulate. In an official statement published by the consulate, "The main goal of the conference was to strengthen existing ties with U.S. trade partners and to establish contacts with new investors. Among other speakers who presented were the representatives of the American companies and institutions already successfully operating in Brno, for example Mayo Clinic, IBM and Honeywell." Both Consul General Martin Dvořák and the Deputy Consul Stanislav Beneš were gracious and friendly hosts and seemed pleased with the turnout of the event. Petr Bajer, from the Brno Regional Chamber of Commerce, added that they were ready to "serve US companies coming [a] long distance" and would be able to "offer more services" to prospective investors. In Bajer's words, the presentations were "examples of success."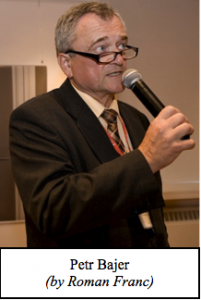 The Brno Days presentations were successful in illustrating Brno as a city filled with educated, cultured, and innovative people. The event highlighted many businesses that attribute their successes to Brno's citizens, education system, and central location. Many of the guests were intrigued or convinced by the presentations. One guest from an outsourcing company said that he had mostly worked in Poland, but now planned to visit Brno to possibly recommend it to his clients. However, some guests experienced disappointment about a lack of American businesses and participants whose insight would have been helpful. Also, some guests wanted to know about businesses in sectors other than architecture and medical research. Despite these comments, the presentations highlighted the best of the city and made people want to know more. David J.P. Meachin, Chairman and CEO of Cross Border, was a guest at the event and noted the large number of international speakers. He believed it spoke well of Brno and the presentations displayed a city where problems were solved. Essentially, Brno was a place where Americans can go to conduct business and prosper.
Past and Future Events
• Brno Jazz Festival: April 4 – 30, 2012
• Czech Center New York- Private Universe Film Club- October 15, 2012, 7:00PM
• Czech Center New York- Grayscale Imprints Exhibit- October 25, 2012 – January 15, 2013, 6:30PM – 8:30PM
• Czech Center New York- The Opportune Moment, 1855 European Book Club- October 30, 7:00PM
• Czech Center New York- Beyond Cage: Ostravasha Banda + Talujon Percussion Concert- October 30, 8:00PM
If you are interested in doing business in the Czech Republic check out these links:
• Consulate General of the Czech Republic in New York www.mzv.cz/newyork
• CzechInvest www.czechinvest.org/en
• Czech Accelerator Program en.czechaccelerator.cz/