We are  now in the second year of the Met's new production of Tosca, and it wears well for the costume department.  Brilliantly and esoterically designed by Milena Canonero, award winning (Barry Lyndon, Chariots of Fire,  The Cotton Club, Marie Antoinette), popularist, with a distinct point of view, the costumes lend voice to the already rich Puccini score. With a set that is more "mood" that visual, the costumes shine as individual moments .  They invoke each character's flaws, or personalities.


Act II, Palazzo Farnese uses the stark set as a backdrop for Scarpia's debase, amoral nature. Against the heights of his appartment's walls, Scarpia dallies with a few light-hearted beauties. In light, sheer, brilliantly colored chiffons, three "sirens" cavort on the stage with Scarpia.  Scarpia is the official bad guy in this tale of political intrigue , for those who aren't totally familiar with this opera. The trio are most definitely "Regency" ladies of the night, adding a dashing pastiche to the evil villainous mood presented by Scarpia in his leathers. Milena has created a world of Men in Black, slithering  in their tailcoats that bring to mind  Matrix imagery.  In the totalitarian interiors, they are like rats. Scarpia is seen in his "snakeskin" coat, slick hair and naturally vile demeanor. His henchmen are appropriately garbed in black leather coats, true to character, in an almost "Incroyable" invocation.
Milena Canonero's  women drip in lush tones, with their characters reeking of credulity.  The main character, Tosca, loves her reds: embroidered , embellished gowns that leave a scanty breast.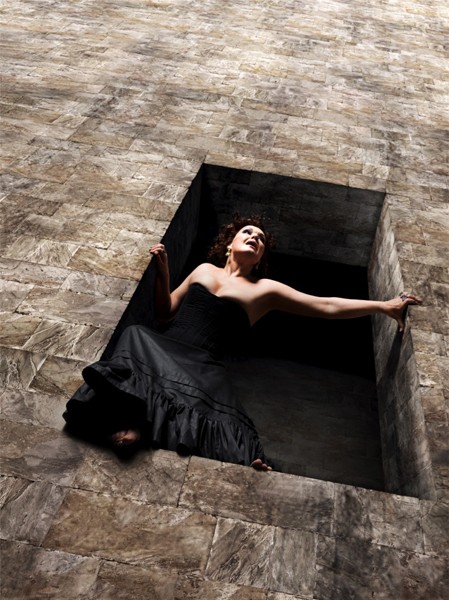 Back to our trio of  dryads , clad in layers that leave little to the imagination, with their profession a self-evident smack in the face of the tragedy that is taking place outside the window.  Loose is the drape of their garments, and loose their morals as they pose on a velvet sofa with thighs bared .  they are a vulgar viersion of "The Three Graces". The room is tossed with their accessories, as are they: each of the three wear thigh-high hose, in colors that call attention to their limbs.  Shoes that are wondrous in their height, and headwraps that are Greco- Roman in reference.  These ladies could be posing on the side of an urn, or in the Classical wing of any museum, should they have been of another class.  Our lead, for whom the opera is named, Tosca, models headpieces  that are Grecian wraps, a link to the Bonaparte influence.  Her hair is filled with jewels, strung with sparkling references that define her diva personality. Gold flowers, gold leaves, in a tiara –esque formation, adorn Tosca's ringlets a la greque.
Aside from the gorgeous color treatment in the palace of Scarpia, with the demi-mondaines, the colors of Tosca ring true to the individual characters in the opera.  The hero, of course, wears white.  Or off-white, if you will, represented in a greatcoat of full- length proportions.  We saw tosca when Roberto Alagna,  hero of all heroes, brilliantly portrayed the doomed artist, Cavaradossi.  In a sea of black, his white coat stands true to his courage, his philosophy, and his doom.
The last matinee of the season is on Saturday, January 28th.  If you can't make it, make a note to see the HD performance.