Gotham Dream Cars Become a Nightmare
Two Ferraris from Gotham Dream Cars, a rental company located in Englewood, NJ, recently struck and killed a motorcyclist on a service road with a speed limit of 25mph. The incident occurred at 7:45am at the MetLife Stadium which was hosting a Dream Car Sprint event later during the day and was cancelled as a result of the collision.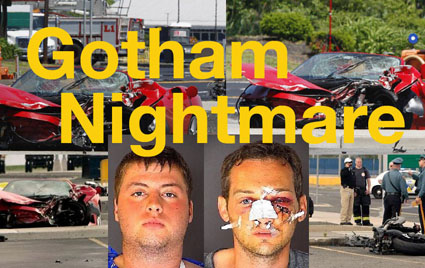 The fatal collision occurred outside the Metlife Stadium, site of the Dream Car Sprint Program organized by Gotham Dream Cars rental company. The drivers of the two Ferraris were employees of the Gotham Dream Cars, Joseph Ferretti, 28, and Joseph Meyer, 19. Joseph Ferretti is the brother Gotham Dream Cars owner, Rob Ferretti. The victim was Stephan L. Lenge, 57, who was driving his motorcycle to work as a stagehand at the stadium. Mr. Lenge was killed at 7:45am on Sunday, May 13. His motorcycle was found 900 feet from the point of impact by the collision.
According to a police spokesman, the two Ferraris were traveling at a high rate of speed on a service road with a 25mph limit. Joseph Meyer and Joseph Ferretti lost control of the Ferraris while turning a curve and one the cars crossed the median onto the north side of the road in the path of Mr. Lenge's motorcycle. Mr. Lenge was a longtime motorcycle enthusiast who often talked about driving safe on a motorcycle.
Joseph Meyer, 19, of Orlando, Fla. and Joseph Ferretti, 28, of Dumont, NY, were charged with death by auto, a second degree felony which has a possible five to ten year prison term depending on various factors. They were held at the Bergen County Jail in Hackensack with bail set at $50,000 without a 10% option. The police said that Ferretti and Meyer also face several traffic violations. In the latest update, Mr. Joseph Ferretti and Mr. Joseph Meyer have entered a plea of not guilty.
Mr. Stephan L. Lenge, the motorcyclist, who was killed by the collision was a well known and loved member of his community in Kinnelon, NJ. He was the owner of a popular Cliffside Park record store "Things from England" since 1976. The store became mecca for those fans who wanted the new independent music during the late 70s and early 80s. Mr. Lenge was a great enthusiast of vinyl records and spent many hours and days searching Greenwich Village to purchase them.
At the time of his death, Mr. Lenge was helping to setup stages for the Electric Daisy Carnival at MetLife Stadium when his motorcycle was struck head on from the opposite direction by Mr. Joseph Ferretti driving one of the Ferraris owned by Gotham Dream Cars in the collision. Mr. Sephan Lenge is survived by his wife and he was the father of two teenage daughters. Mr. Lenge's wife said that she was too distraught to comment.
Further reading:
Gotham Dream Cars Accident in NY Times
Rob Ferretti Speeding Controversy
Star Ledger on Gotham Dream Cars Event
-Martin Craigs for AllNY.com