New York City Art Museums
Enjoy New York Art at a Bargain Price
Whether or not you are an artist or an art lover, many people travel to New York City for the wide variety of arts. This city abounds with museums, exhibits and galleries. Appreciating some of the best art in the world does not have to cost a fortune. New York City is full of great deals that help to promote the arts.
1.) Museum of Modern Art (MoMA)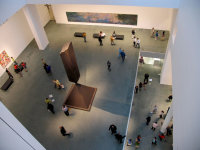 Fresh from a $425 million makeover, the MoMA is a must see NYC destination. At a mere $20 per person or a donation, you can view Monet's Water Lillies and Van Gogh's Starry Night, along with other jaw dropping paintings. MoMA is equipped with audio tours and Caf&eacute 2, offering rustic Italian cooking. MoMA offers interactive kiosks in order to make it easy to navigate. The price of your ticket grants you access to P.S. 1, a great museum in Queens. If you come to MoMA after 4pm on Friday it is free, however you may have to stand in a queue.
www.MoMA.org
1017 5th Ave (at 89th St.)
New York, NY 10128
2.) The Guggenheim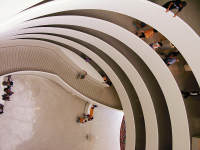 One of the most notable buildings in New York, a work of art in its own right, is the Guggenheim Museum. Designed by Frank Lloyd Wright, this building houses works by over 150 artists such as Picasso, Miro, Goya and El Greco, and is a must see for any art lover. At a quarter of a mile long, the best way to view everything is to take the elevator up and spiral down the ramps. The Guggenheim is closed on Thursdays. Cost is $18 adult, Free for children under 12.
www.guggenheim.org
1017 5th Ave (at 89th St.)
New York, NY 10128
3.) Metropolitan Museum of Art (the Met)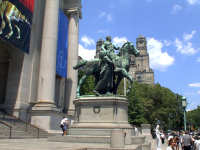 Located East of Central Park on "Museum Mile" in NYC, the Met (the largest building's nickname) offers over 2 million permanent works of art for you to gaze at. There are pieces dating from antiquity and ancient Egypt to the modern era. The Met houses costumes, weapons, armor and is decked out with historical interiors that take you back in time. Over a quarter mile long and more that 2 million square feet ensure that you get your money's worth out of the Met. The Met is closed on Mondays. Cost is $20 adult or a donation, discounts are available for students, children and senior citizens.
www.metmuseum.org
1000 5th Ave (at 82nd St.)
New York, NY 10028
4.) Tamarind Art Gallery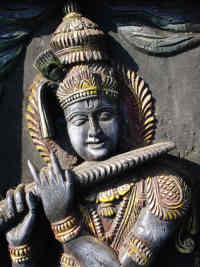 Offering a wide range of media, the Tamarind Art Gallery and Museum brings Indian art to the Western world. Established in 2003, this contemporary gallery attempts to connect established artists with young, up and coming artists. Open Tuesday - Saturday, the Tamarind offers book readings and signings as well. Free admission.
www.tamarindart.com
142 E. 39th St.
New York, NY 10016
5.) International Center for Photography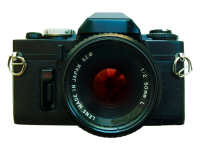 The Center is a school, collection and exhibit that focus on contemporary photography without leaving historical works in the dust. Offers over 50,000 prints on rotating exhibits, this is a must see for any photography lover. There is a great bookstore on site with prints and collector's books for sale. Cost is $12 adults, $8 for students and senior citizens. 12 and under are free.
www.icp.org
1133 Avenue of the Americas at 43rd St.
New York, NY 10036
6.) The Frick Collection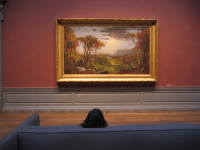 The NYC Frick showcases a variety of works including sculpture, bronzes, furniture, oriental rugs and enamels. This NYC art museum is much smaller than some of the New York City giant museums and it feels more like an intimate home that you can tour at your leisure.
View works from Rembrandt, Goya and El Greco, just to name a few. Then you can enjoy a video presentation that plays every 22 minutes in the music room. The NYC Frick also offers music concerts and lectures periodically. Cost is $15 adults, $10 for senior citizens, and $5 for students. 10 and under not admitted.
www.frick.org
1 E. 70th St. (at 5th Ave.)
New York, NY