Guide To Finding A Deal On New York City's Canal Street
New York City's Canal Street is the holy grail for bargain shoppers - especially when it comes to knockoff (or wait...could some of them be real?) watches, accessories and handbags. The pulse of Manhattan's Chinatown, Canal Street is always crowded and often dirty, but man, can you find a deal.
Before you head downtown to do some (possibly shady) business, bone up on what it takes to get the good stuff:
No Cards Allowed- Canal Street is a cash-only atmosphere, so run by the bank before starting your shopping spree. Don't put yourself at risk by carrying too much dough, though. If you start to run short, there are several bank branches in the area:

Bank of America
260 Canal St. (near Lafayette St.)

Chase
407 Broadway (near Canal St.)

CitiBank
164 Canal St. (at Elizabeth St.)
396 Broadway (at Walker St.) - ATM only

HSBC
254 Canal St. (at Lafayette St.)

Washington Mutual
221 Canal St. (at Baxter St.)
Be Careful With Your Cash-Now that your pockets are stuffed with bills, try not to show it. Keep your cash tucked away somewhere close to your body, so that you aren't an easy target for pickpockets. Also remember to keep your cash hidden when negotiating a deal - your wad won't help much in convincing someone to sell you that $30 wallet for $12.
Don't Carry A Purse- For safety reasons, it's best to leave your purse at home when you head to NYC's Canal Street. (You may find yourself toting a few of them on the way home, though!) If you just can't leave home without your handbag, keep it zipped up and snug under your arm.
Beware Of Kitsch- There's nothing wrong with a bit of novelty art, but try to resist the urge to spend $5 here and there on total junk. The small price tags can add up before you know it. (The author of this article once came home with a blue origami penguin, folded from cornhusks. Fascinating, but neither practical nor pretty. It now lives in her sock drawer.)
Research Before You Shop-If you're looking for specific knockoffs, check the internet (or the designer shops on 5th Avenue) to bone up on the latest styles. Some of the fakes on Canal Street may be mimicking designs from several years past, or may even use colors or fabrics that the copied brand doesn't use at all.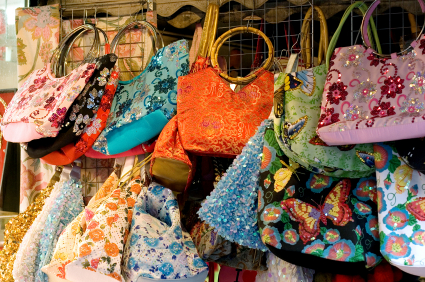 Ask For What You Want-If it's knockoffs you're after, you won't find the good stuff out in the open. If you want a Fendi bag or Tiffany's jewelry, ask for it. Almost any shopkeeper will be able to lead you to the goods. (Just be prepared to slide into a dank backroom to see them. More on this next.)
Follow the Whisperers-If you enter the area where Canal Street crosses Broadway, little Chinese ladies (and sometimes men) with walkie-talkies will almost certainly approach you whispering, "Coach? Prada? Louis Vuitton?" If this is what you're after, simply say yes (or name the brand you're seeking). Once in a while, the whisperer will produce a catalog, where you can choose the item you like, and she will have it sent up. Mostly, however, she will ask you to follow her as she scurries down the sidewalk, around the corner, and either down into a deep basement or up an elevator to a tiny makeshift showroom. Once inside, you will find walls coated in hanging purses. (It is rumored that there is an enormous labyrinth of secret tunnels beneath Chinatown.)
Inspect-If you see an item that you like, don't just stand there. Hold it, feel the lining, check out the seams, test the clasps and try the zippers. Also make sure that any labels are properly spelled and well attached. If you don't see anything you like, it's fine to say, "No thanks." Canal Street merchants are generally not offended if you don't make a purchase.
Haggle Like Crazy-Find what you want? Get ready to bargain. You can always talk the seller down a few bucks. (For tips on haggling, check out Can I Haggle with New York City Street Vendors?) If you are purchasing multiple items, you can REALLY bring the prices down. (Three handbags for $40 each? Try to get all three for $75.) The same goes for the perfumes, scarves and knickknacks at street level. Never pay the original asking price.
Don't Buy The DVDs-Chinatown is full of treasures, but the DVDs are usually crap. You'll likely wind up with either a blank CD or a bootleg filmed by hand in a theater. Only pay the $5 if you are doing it simply for the thrill.
Look Tough-As in any big city crowd, try to look like you know what you're doing. Walk with a purpose, and try to look like you come here all the time (even if you're totally out of your element). Your confidence can save you from strangers taking advantage.
Bring A Buddy-This is just a matter of safety, really. Don't shop alone, especially when you're wandering through backrooms. If you must go solo, try to team up with a group of tourists looking for similar stuff before following a stranger into dark passageways.
Keep Your Head-This is a warning of practicality: Unless you own a retail store, you probably DO NOT need 17 handbags, 8 watches and bag full of pashminas. The deals are fun, but Canal Street will still be there if you want to return. Take it easy.
Enjoy!-You have the warnings; you're ready for haggling; now get out there and have an adventure!
NOTE: Yes, counterfeiting is illegal. In the case of a raid, you won't be prosecuted for making purchases, but it is illegal for these people to sell the counterfeit goods, and the counterfeiting trade on Canal Street may be linked to other crime webs, including violent crimes. Just so you know.
- Erin Walters for allny.com
---
Resource