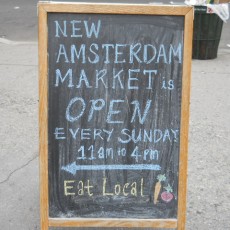 New thing for a Sunday treat: walking breakfast/brunch at the New Amsterdam Market, under the overpass at Peck's slip. Just a few blocks away from the first ever market in New York (founded in 1642), this year-old Sundays'-only marketplace brings a European feel to old New York.
The vendors range from produce, organic, and specialty, to candy, with samples of everything everywhere. Try the bread, try the pies, have some cheese, taste the lobster. Go for a coffee, and take a breath. Local talent from local farms and small producers bring you an unusual and must-see/experience marketplace. With the broad expanse of the Brooklyn Bridge as the landmark vista, and the cobblestones of lower Manhattan underfoot, the Sunday walk -through -the -market may just become the new way to see New York City. With the kids, with the dog, with the bike. Bring bags, because you'll want to take home one of everything. And this market is indeed trying to be a slow-food, organic, farmer-friendly kind of place.The selection changes on a weekly basis-who knew there were so many varieties of independants all within a reasonable distance from our doors? Should you crave pickles: got 'em. Kimchi? Yep. Duck bacon: uh-huh. And the chutney girl is just next to the duck farm stand, so load up for those folks at home. What a better souvenir of NYC than a treat from our local produce, done up into a nice little package, for those foodies on your list. Nix the t-shirts, and grab a jar of jam. Strolling needs a plan, so let your eyes feast first, and double back for samples. Maybe a codfish pie? A cookie?

Photographers are everywhere to shoot the miitake mushrooms (Hannah of the woods), or the herring. Maybe even you, with breakfast dripping down your chin. So photogenic. The week we were there, Do Re Me from New Hampton supplied us with honey, fruit, corn and friendly patter. They also gave us a bag of greens to sauté….never known of them before, something like a ramp. They provided the appetizer for dinner for my niece: sautéed in a drizzle of olive oil, they sweetened up ,so obviously from the onion family. That alone was another enriching experience.  The Dutch Diva , Marja Samson, was dishing up tiny pancakes, sprinkled with powdered sugar. Perfect for a cup of decaf, brewed per cup just around the aisle at Blue Bottle Coffee.
The menu for dinner with my niece worked itself out as we walked through the market :
Atkin's Gold, Italian style cheese, from Narragansett Creamery. This local (Providence, RI) cheese, drizzled with honey is sooo good with a rose, or a chilled white wine. The sautéed greens , of a mysterious name, were a our great first course. Grilled patapan summer squashes, tiny, beautiful, multi shades of gold and white. These were marinated with some herbs from our fire escape (oregano, basil, rosemary), olive oil. Delicious. Fennel with orange salad, with pea shoot sprouts and baby greens Sour cherry crumble, with wheat germ instead of flour. The Morello cherries from Flying Fox fruiterer Maggie Nesciur have a window of one day to be picked. Sprinkled with lemon juice and organic powdered sugar, they made the perfect dish. Get someone to help pit, and make it a party!
The New Amsterdam Market opens with the sound of a time-honored ringing of a bell. Very Old World, with an enthusiasm for the new purveyors, and avid fans of this market. Be there: 11-4, every Sunday. And don't forget to bring home the bacon (Hudson Valley Duck Farms)!