Bad boy: so bad, so good, so bad. Love him, hate him. Psychologically, it's easy to love a bad boy. This particular bad boy will enthrall and entice, even as he seduces his next female of choice.
Based on a true crime story from the early 1900's, the tale of woe about professional creep, George Joseph Smith (alias Love) and wilted milliner, Adelaide Pinchin lives on in Karoline Leach's Tryst. Live in all it's glory at the Irish Rep for another hot week, this little but mighty play grabs you by the throat and doesn't let go for the entire roller coaster ride.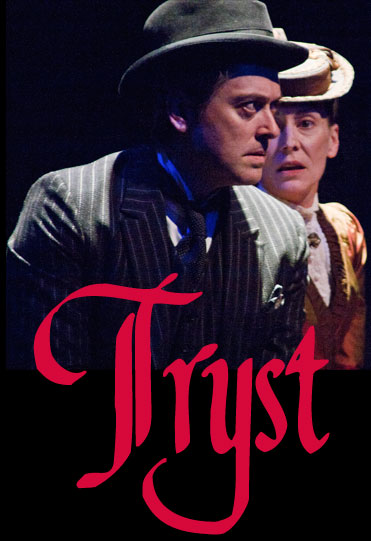 Come because of the story: it's the tale of a meek milliner, easy pickings for a deft and able con man. Or, because you love true crime stories. Based on a serial bigamist's life story, the play grips with perfect measured composition, like the stitches on the ruching of Adelaide's latest masterpiece. Our Adelaide toils in Mrs. Pear's Hat shop in London, still living with her parents, and dreaming but not daring for a life of romance. George, our erstwhile cad, bounder, deadbeat has a chance meeting with her, and so the story begins. The plot thickens throughout the first act, but comes to a breathtaking, on-the-edge-of-your-seat finish in the second act. Spoilers be hanged, no telling what happens after Adelaide slips dear George a bit of truth serum and lays a practical proposal at his feet. Question: will George repent his life of faint-heartedness, and choose our Adelaide's upwardly mobile plan to open their own business (a millinery, of course) together and live happily ever after?
Tryst is a psychological duet: the two protagonists mark points as they parry in a give and take. While the audience gets to know each character a bit more, they themselves share the stage with a directorial move that delineates, and underlines their flaws. Each character tells their own story, together, and yet, not on center stage. The interaction is brilliantly played, and creates an intimacy that would otherwise be a problem for staging.
Our Turn of the Century Alfie believes in a "quid pro quo," taking his ladies for all their worth, and leaving them flat. As the little milliner peels away layer upon layer of her Don Juan, and he discovers more of her internal mechanism, they forgive each others sins, pain, and yesterdays.
Can the damned be saved by the love of a good woman? Those of us who have lived under the spell of all those bad boys out there can empathize with Adelaide. Until the end.
Tryst, at The Irish Repertory Theatre, with Andrea Maulella as Adelaide, and Mark Shanahan as George, directed by Joe Brancato, only until August 21st, 2011. There is some nudity, so leave the tots at home. Plan on a dinner nearby, and check the program for local watering holes offering discounts.