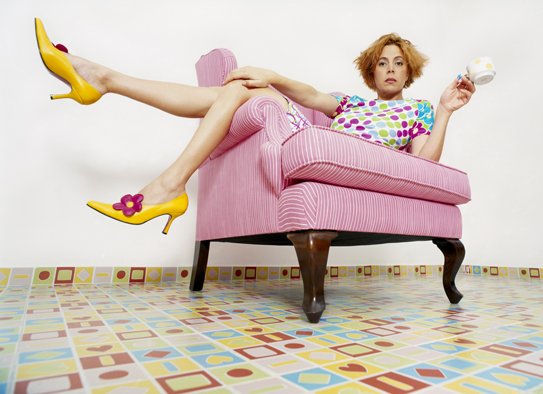 Madrid's fair-haired child, Agatha Ruiz de la Prada , brings her happy palette and upbeat designs to her new space in Tribeca/Soho . This is her first New York store, and if ever there was a place to buy an umbrella, this is it. Barcelona, Milan and Paris are fond of her free-wheeling spirit, and now we can add a dress or two to our fashion vocabulary. She brings a sense of the Nicky de St. Phalle to her clothing collections, merging her sense of the haute in the art world, and her practicality for urban Moms.
Her design technique combines crisp, clean lines and fast colors, and would seem to draw inspiration from the 1960's. Those of us familiar with a "bracelet length sleeve" will fall in love with her Fall overcoats in her cheerful colors. Reminiscent of a "car coat" from the late '50's, early '60's, her coats are the perfect layering tool for busy us. Simple , classic coats shapes., and beyond: well-thought -out bags, and accessories (she's got an incredible collection of alpargatas and canvas shoes).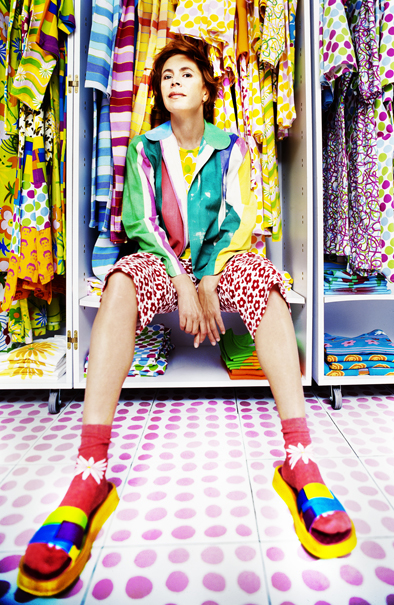 Throw in a touch of Keith Karing, a soupcon of Andy Warhol, and a splash of Mary Quant: can you taste the flavor? We used to call it "Pop-Art", and other designers have forged this trail for her: Stephen Sprouse, to name one.
Prices are pocket-friendly, and this is a store where a Mom, teenager, or a baby can have an eyeful and come away happy. Not over-the-top fashion, but easy, casual, comfort clothing that stays away from the plaids of Fall.
Aristo background, artista in concept, Agatha brings to the commonplace an upbeat interpretation of Spanish Haute Couture. Look closely, and you'll see a trace of Balenciaga in her fun-loving pieces. Use your imagination, close one eye, and see her pieces are artistic moments in your closet. Broaden your horizons from those signature polo shirts, and other yawningly familiar label sportswear, and put this store on your walking map. Enjoy the find, and the neighborhood. Not to mention your new umbrella.
P.S. the Hudson River Park is one block away, so you can stroll the promenade after , or before you shop!
466 Greenwich Street
New York, NY 10013
http://www.agatharuizdelaprada.com/eng/shops