Balenciaga.  The name sends a frisson of joy to the heart of any fashion heavy in the world.  Design students wish they could have studied with him.  All of us who know his work admire him.  He was a force of nature, drawing upon the cultural heritage of Spain for his design inspiration.  Yet the times influenced his work, and the modernistic approach to line, reinforced with the old world reality of superb tailoring, left us with collection after collection of brilliant pieces.
Now, until the 19th of February, the Queen Sofia  Spanish Institute of New York opens it's doors to the public for a conceptual curated exhibit of the master's works.
Conceived by Oscar de la Renta, and executed by Hamish Bowles, Vogue's European Editor at large, the panoply of intrinsic Balenciaga pieces teach us his vocabulary by showcasing more than 70 items of clothing and accessories.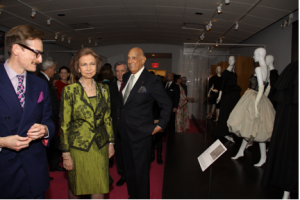 Photograph by: Mary Hillard. Curator Hamish Bowles and Chairman Oscar de la Renta lead Her Majesty Queen Sofía of Spain through the exhibition galleries.
Balenciaga Paris has opened it's archives , and lent historically significant (and iconic) garments.  Masterpieces include Balenciaga's Infanta gown, and walks us through costumes from the 1940's,  produced at the height of Paris occupation in WWII , to the silk abstractions of the 1960's.  For those in costume, art history, design, even architecture, the exhibit allows a span never seen before of Balenciaga's inspiration, and interpretation.  For lovers of gorgeous silk gowns, this show is a must-see.  From flamenco polka dots, to embroidery reminciscent of the Spanish court of the 1600's, Balenciaga's en pointe design technique never faltered.  As an older member of fashion's hierarchy, he never stopped, and worked well into his retirement in 1968.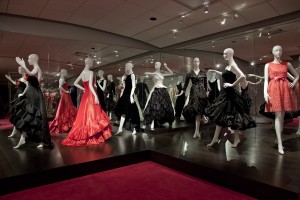 Photograph by: Kenny Komer
Come and see the Trajes de luces, authentic bull-fighter's costumes, and fashion's twist on a thematic indulgence…the bolero jacket, which became a staple in the 1950's, worn with cocktail dresses and poodle skirts alike.  Who didn't take from this man of much vision? Bonnie Cashin, Cardin, Givenchy, Claude Montana…seen via a period video, celebrating several collections of the House of Balenciaga, the pieces evoke other times, and works.
The video itself is a delight, with mincing models and atmospheric lighting, quite obviously done in the salon, with the gilt chairs in evidence.  Space helmets alight atop the models heads…in a figure of speech, of course, because they're all perfectly blocked felt hats.  Do you see Couregges in there, too?
In M. Balenciaga's later years, modern art becomes his language, as the influence of Miro, Chagall, Braque, took hold.  A gentleman named Gustave Zumsteag invented a fabric just for Balenciaga at this point: silk gazar.  It allowed his architectural compositions to achieve a control not before seen with another fabric.
Come and see this exhibit, and enjoy Park Avenue, and it's architecture.  Fashion at it's finest hour…way before Fashion Week!