Get thee to Chelsea, if you've not experienced the greatest sale since Loehmann's first opened in the 1940′s. Every year twice per year, the renowned store Barneys has its sale. Everyone knows about it, believe me. This is the last week, the time to go, to get even greater mark-downs, and fresh goods just brought in for the remainder of the sale.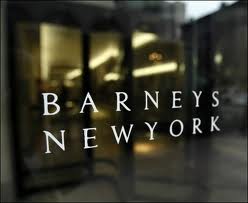 In a huge warehouse space that extends from 17th to 18th Street, the sale offers every designer floating around the racks of Barneys, from shoes and handbags to evening gowns. The mission: get it before the person beside you sees it. The object: fill a bag with every possibility and go to a corner where you can try everything on and pray you have enough space on your credit card to take it home. The shoes!!! Last year I scored a pair of knee-high gold Givenchy boots, just put out on the LAST DAY, for $245 (originally $1400). What a way to shop; it's insane. But you can get a perfect little Spring thing to wear to the Kentucky Derby. Or to your best friend's wedding. Or maybe even the Royal wedding… If you have your invitation already.
The trick: know the holes in your wardrobe, or you'll come home with too many yellow cashmere sweaters, just because they were only $20 each. Think about what you wanted in this season's favorites and go after that with an image in your head, or in your hand, as if it were The Holy Grail. It helps to know the season: which designer fits your proportions, and what color should you add to your vast collection of cocktail dresses. You might pick up a Prada jacket for the Opera. Or for your local Saturday night pub crawling with your buddies.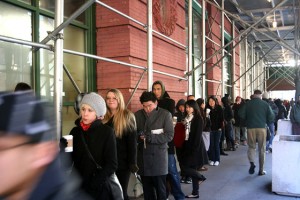 Photo: Melissa Hom
And send your beau downstairs: the menswear is formidable, with tailors at every rack to assist the poor boys in their hunt. We, the women of fortitude, suffer on with no help, but the men have a stronghold down there. If you want to go help pick out the perfect navy blue blazer with him, this is your chance . Ties, hats, gloves, scarves abound, so it's the perfect time to shop for Father's Day.
Right after your big score you can stumble out onto 18th Street, and fall just next door into El Cocotero's for a sampling of the best sangria in town. And an arepa. If you must, have a salad, but do the calamare salad with its delightful dressing and crisp bits of calamare on top. It feels like you can still fit into that little dress you just got at the Barneys Sale, right?
P.S. Try to go on a weekday. The hordes really descend on the weekend, and on the LAST weekend, it's a zoo!
http://www.barneys.com/Barneys-New-York-Warehouse-Sale/WAREHOUSE_SALE,default,pg.html