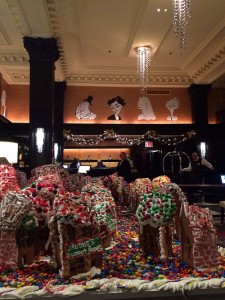 Currently mounted in the recently renovated lobby of the historic Algonquin Hotel, Times Square is an exhibit you won't want to miss. Closing on January 9 is a selection of Al Hirschfeld drawings honoring the renowned Algonquin "Round Table." Titled the "Return of the Vicious Circle," the exhibit is a collection of drawings of the members of the famed Algonquin Round Table and their friends. Twenty-five portraits adorn the walls in the lobby and dining area, reflecting more than fifty years of line-artist Hirschfeld's career.  Some of the faces you're sure to recognize are Dorothy Parker, the grand dame of the Round Table; Harpo Marx; Irving Berlin; James Thurber; and Helen Hayes.
Responsible for helping put The Algonquin on the map and securing its place as a historic and literary landmark, the Round Table – which later evolved into the Vicious Circle — was an eclectic group of New York City writers, critics, actors and pundits. The group, whose members varied over the years, met for lunch each day from 1919 until 1929, always at the Algonquin. Their witty conversations found their way into the newspaper columns of Round Table members, increasing the personal fame of its participants along with that of the hotel. If this pop-up exhibit looks familiar, it's because you may have seen many of these drawings on the pages of the New Yorker magazine, a creation of Round Table member Harold Ross.
Included among the portraits on the wall are Al Hirschfeld's celebrated group portrait of the Round Table, hanging directly above the historic Round Table itself, and a Hirschfeld self-portrait.
The Algonquin, Times Square, Autograph Collection, 59 West 44th Street. http://www.marriott.com/hotels/travel/nycak-the-algonquin-hotel-times-square-autograph-collection/