Paul Mecurio is the type of performer who enthralls and amazes. He knows how to warm up a crowd — he's the opening comic every night on the Late Show with Stephen Colbert. He's a talented comedic writer – he was an award-wining writer for The Daily Show on Comedy Central. And, on his own, he's an exceptional performer. His one-man show, Permission to Speak, is an unscripted journey that changes each night where Mecurio creates an event that involves the audience as much as it does himself.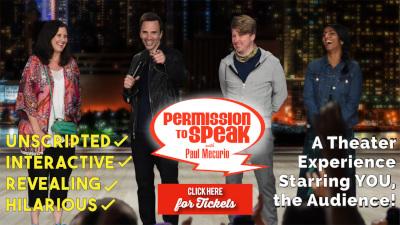 An Emmy and Peabody Award winner, Mecurio melds comedy with life stories. Be prepared to be called on stage to share your story from Paul's point of view. Personal memories, observations and feelings all come into play in this mostly politically correct and unusual show. This isn't stand-up comedy as you might be used to, because you're as much part of the show as he is. Your photo could become part of the show as well. You'll walk away with a connection with people you'll likely never meet again. And given the audiences that flock to this show, some for the third and fourth time, you'll share the wonder of New York and the world all at the same time.
Paul sums it up, "As a performer I've found everyone has a story –  fun, interesting and always entertaining stories that others should hear but no one has ever bothered to ask." This is your chance to hear them all without judgment.
Permission to Speak has two more performances in March before it morphs into something much larger under the auspices of Mecurio's producer and director Frank Oz. Don't miss this – tickets are available on Telecharge here. Use the code: PMFAN for a half-price ticket.  The Actors' Temple Theatre, 339 West 47th Street (between 8th and 9th avenues).
Can't get enough of Paul? He'll be part of the comedy line-up at the Stand Up Showcase at Stand Up New York in February as well. 236 West 78th Street.