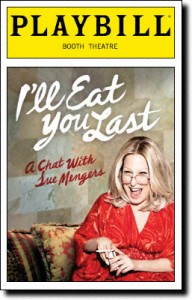 Theater lovers, if you watched the 2013 Tony Awards two weeks ago, you know there are some shows you have to see.  There are also four that are closing in the next week that I would recommend searching out.  Here's a list with my comments so you don't miss out.
I'll Eat You Last – Bette Midler's one-woman show depicts the raunchy, aggressive, and sometimes self-pitying life of talent agent Sue Mengers in the 70s.  It's the Divine Miss M completely transformed into Hollywood's brash, super-agent, who represented a glittering roster of filmmakers and actors including Barbra Streisand, Steve McQueen, Marlon Brando, Mike Nichols and Cher.  Directed by Joe Mantello.  Closes Sunday June 30. Booth Theatre, 222. West 45th Street, Manhattan. www.IllEatYouLast.com.
Ann – Holland Taylor (the sassy mother on Two and a Half Men) is Texas governor Ann Richards in this one-woman show at Lincoln Center.  The show offers a very personal look into the life of the wise-cracking Richards and her trials and tribulations as both a high-power politician and family woman. Closes Sunday June 30.  Vivian Beaumont Theater, 150 West 65th Street, Manhattan. www.TheAnnRichardsPlay.com.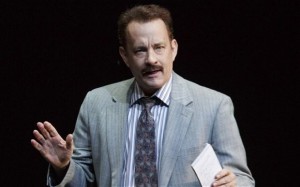 Lucky Guy – Although Tom Hanks didn't win a Tony award for this show by the late (and great) Nora Ephron, his Broadway-debut performance is still up there with some of the greats.  If you love New York history, and especially the sagas of New York tabloid journalism, this show is for you.  The rest of the cast, including the wonderful Maura Tierney (Maddie on The Good Wife) and Tony Award-winner Courtney B. Vance, is terrific, too. Directed by George C. Wolfe.  Closes Wednesday July 3.  Broadhurst Theatre, 235 West 44th Street, Manhattan. www.luckyguyplay.com .



Silence! The Musical – Not the faint of stomach, this parody of Silence of the Lambs, made a successful transition from off-off-Broadway to off-Broadway with its hilarious depiction of Hannibal Lecter, Clarice Starling (the impression is dead on) , and, especially, the lambs themselves. Closes Sunday July 7.  Elektra Theatre, 669 Eighth Ave., Manhattan. www.silencethemusicalnyc.com.
Others not to miss (but difficult to get tickets) are:
Pippin – Tony winner for Best Revival of a Musical, the magically recast Pippin is a glorious evening of circus, music, theatrics, and Bob Fosse dance.  Tony Award winners Patina Miller and Andrea Martin are breathtaking as are the entire cast of players.  Music Box Theater, 239 West 45th Street, Manhattan.  www.PippinTheMusical.com.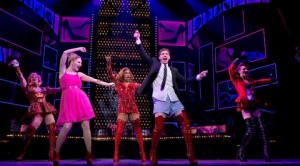 Kinky Boots – Tony award winner for Best Musical, this is another show that's having a nearly sold-out run.  Without ruining the story, suffice it to say that kinky boots are the salvation for a shoe manufacturing company down on its luck.  Billy Porter, Tony award winner, is memorable.  Al Hirschfeld Theatre, 302 West 45th Street, Manhattan.  www.KinkyBootsTheMusical.com