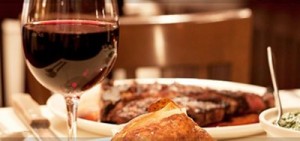 I've already told you why you should visit the Bronx now, but here's another good reason: "Savor the Bronx." The Bronx's version of restaurant week lasts through November 14. "Savor the City" Restaurant Week has 25 participants offering fabulous deals for lunch and dinner, and in some cases for both meals. You'll need to contact each restaurant when you make your reservation to find out which meal applies and whether there are any restrictions.
Where indicated, L means lunch deal is offered for $16.41, and D means dinner is offered for $20.14.
http://www.ilovethebronx.com/index.php/events/savor-the-bronx.
Now's the time to explore the Bronx — visit the Zoo, the Botanical Gardens, shop the markets on Arthur Avenue, stroll along City Island, and eat, eat, eat.  You can even pretend you know Dion and the Belmonts.
ITALIAN
Antonio's Trattoria
2370 Belmont Avenue
http://www.antoniostrattoria.com
718-733-6630
Arties Steaks and Seafood
394 City Island Avenue
artiesofcityisland.com
718-885-9885
L/D
Giovanni Restaurant
579 Grand Concourse
giovanninyc.com
718-402-6996
Giovanni's Restaurant
2343 Arthur Avenue
giovannisrestaurant.net
718-933-4141
L/D
Ice House Café
and Restaurant
140 Reynolds Avenue
icehousecafebronx.com
718-863-5580
L/D
John's Pizzeria
2326 Arthur Avenue
718-220-0000
Lucca Restaurant
3019 Westchester Avenue
lucca-restaurant.com
718-892-8282
Spoto's
4005 East Tremont Avenue
spotosnyc.com
718-828-5613
D
Tosca Café
4034 East Tremont Avenue
toscanyc.com
718-239-3300
D
LATIN AMERICAN
Babalu
3233 East Tremont Avenue
babalubx.com
718-824-8400
L/D
Don Coqui
565 City Island Avenue
doncoqui.tv
718-885-2222
D
Havana Café
3151 East Tremont Avenue
bronxhavanacafe.com
718-518-1800
L
Siete Ocho Siete
3363 East Tremont Avenue
sieteochosiete.com
718-430-6600
AMERICAN
Charlies Bar & Kitchen
112 Lincoln Avenue
charliesbarkitchen.com
718-684-2338
Hard Rock Café – Yankee Stadium
1 East 161st St, Gate 6
hardrock.com/yankeestadium
646-977-8888
Jake's Steakhouse
6031 Broadway
jakessteakhouse.com
718-581-0182
P & K's Grille
170 West 231st Street
pkgrille.com
347-602-7880
The Bronx Beer Hall
2344 Arthur Avenue
thebronxbeerhall.com
347-396-0555
FRENCH
Bistro SK
273 City Island Avenue
bistrosk.com
718-885-1670
D
MEXICAN
Cabo
3764 East Tremont Avenue
cabobx.com
718-863-0091
L
RJC Family Café
2338 Jerome Avenue
718-220-4888
L/D
Santa Fe Grill & Bar
6025 Broadway
santafegrillrestaurant.com
718-796-5095
Xochimilco Family
Restaurant
653 Melrose Avenue
xochi-restaurant.com
718-402-5400
ASIAN
Ceetay
129 Alexander Avenue
ceetay.com
718-618-7020
D
HEALTHY ALTERNATIVE
Muscle Maker Grill
4041 East Tremont Avenue
musclemakergrill.com
718-822-6992