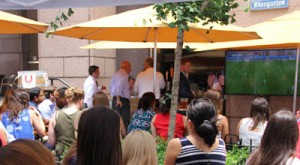 Downtown Manhattan's Water Street is turning into an outdoor playground this summer for adults as well as kids with its pop-up Game On! Series.  Through Labor Day, Monday through Friday from noon to 7pm, you'll never lack for fun if you head to the Financial District, between Wall Street and Whitehall.  Follow the hash tag #gameonwater for updates on new programs, being added daily.  In addition to the "games," there's a host of food choices, beach areas, and hangout spaces.
Some of my favorites are the Giant Connect 4 game located on Gouverneur Lane where you can feel like a four-year-old all over again as you play with your friends or with actual four-year-olds.  I also love the Urban Beach Shuffleboard on Whitehall Plaza, a worthy competitor to all the shuffleboard action happening in Brooklyn of late, as well as the second shuffleboard location at 1 NY Plaza.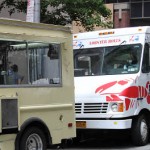 More intellectual types will be attracted to the Sudoku corner at Mannahatta Park, where you could also park yourself with your own chess board and score a feisty match (people love playing chess in this city). On Sundays, bring along your New York Times and invite a new friend to help you tackle the crossword puzzle.
If you're thirsty, the beer garden at Coenties Slip will keep you satisfied while you play bean bag toss (cornhole), while the variety of food trucks will satisfy your hunger along Old Slip Park. Look for faves like Korilla BBQ and Van Leeuwen Ice Cream.
Old Slip Park is also where you can engage in two favorite games from times past, Nok Hockey and Battleship.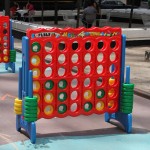 And, for those craving the ultimate summertime family experience, there's mini-golf on Elevated Acre at 55 Water Street. It's only a three-hole course, but who cares? You can play it six times!
For a full schedule of activities and to sign up for the latest news, visit http://gameon.downtownny.com/.  Water Street, between Whitehall and Wall Streets. Monday-Friday, noon-7pm. The program, sponsored by the Alliance for Downtown New York, is an effort to revitalize spaces and areas affected by Hurricane Sandy.