No matter what the weather brings, the Halloween season leaves NYC with nothing short of an endless list of spooks and spectaculars.  Whether you're looking for a taste of artistic and ghoulish creativity, a good old-fashioned scare, or another reason to dress up your pooch in a costume, you have lots and lots of choices.  Also, check out the Botanical Gardens and the Zoo for other special offerings.  Be sure to keep tabs on the parade to see whether Sandy has caused any delays or disruptions.




The Village's 39th Annual Halloween Parade: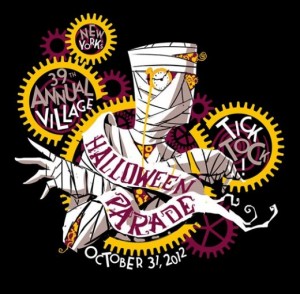 Every year, this Greenwich Village tradition seems to get bigger, scarier, and more outlandish than before.  People spend an entire year preparing their costumes for the parade, and group ensembles are quite common, entertainment included.   The parade kicks off on the evening of Wednesday, October 31 beginning at 7pm.  Feel free to catch the commotion at any point on Sixth Avenue, and if daring enough, join in on the march (but only if you are in full costume).  If you'd like march in the parade, make sure you enter the line-up on Sixth Avenue from the east and south between Canal Street and Spring Street by 6pm.  Self-proclaimed as the nation's most wildly creative public participatory event in the greatest city in the world, this is a definite must!  www.halloween-nyc.com.
Decorated Apartments
Since many of the weekend's plays and outdoor hauntings were postponed due to the weather, you still have a chance to enjoy the phenomenally spooky and creatively decorated apartments on the Upper East Side.  Almost de rigueur if you own a brownstone on the side streets from the 70s to 90s between Lexington Avenue and Park Avenue, owners decorate or subcontract to many event stagers to outdo each other with coffins that move, vampires that appear, and giant spiders dangling from windows, trees and lining the steps of the brownstones.  Visit by day to see them in their full glory or at night to catch them lit up. Some of our favorites are on 92nd Street between Lexington and Park.  It's Manhattan's version of Carroll Gardens or Dyker Heights in Brooklyn's over-the-top Christmas lighting.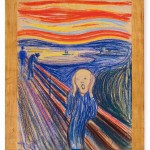 Just in time for Halloween, Edvard Munch's famous The Scream painting appears for art lovers as well as horror seekers.  Why is the twisted character screaming?  We'll let you make that decision on your own.  On view through April 29, 2013, this is a rare traveling viewing of the painting. Museum of Modern Art, 11 West 53rd St., 212.708.9400. www.moma.org.