Bastille Day, France's national holiday, is coming up on July 14.  However, you can celebrate it in New York City starting on July 11. 
PARTY
Grab your beret and head to 60th Street (from Fifth to Lexington) on July 11 from 12-6pm for a three-block festival filled with raffles, tastings, live performances, and so much more. The celebration is free and open to the public.


Highlights include:
Raffle Prizes:  Drawings will take place at 2pm, 3:30pm and 4:30pm on the Main Stage (corner of Park and 60th). The grand prize is a getaway trip for two to Paris, and other great prizes in the categories of travel, lifestyle, beauty and shopping, and food and drink will be drawn.
Tastings: The Bordeaux Wine Council will be sponsoring a wine and cheese tasting at the FIAF Gallery (22 E. 60th) from 12-5:30pm with cheese provided by Lactalis Deli and beer in the FIAL Lobby courtesy of Kronenbourg.   
Street Entertainment: Feel as if you're standing on the streets of Paris with the live mime act (12-6pm), accordion music (1-5pm), the "Tour de France" race with stationary road bikes (12-6pm), the "Garcons de Café" race (competitors dressed as waiters carrying trays; 12-1pm), and the Citroën Car Show (1-6pm).
Live Performances: Get a taste of different French musical genres with performances by Pierre de Gaillande, Les Sans Culottes, and Malika Zarra. The performances will take place on the Main Stage from 12-6pm.
Kids' Activities: Les enfants will love the lawn bowling tournament, face painting, arts and crafts, festival booths, can-can dancers, and more.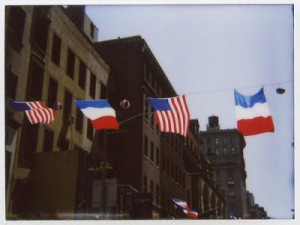 EAT
On July 14, foodies can celebrate at these French restaurants:
Bar Artisanal: Enjoy Terrance Brennan's new TriBeCa tapas hot spot. Indulge in the pissaladière (French style pizza), pork belly, or the array of delicious cheeses. 
 268 W. Broadway, 212-925-1600, www.barartisanal.com
Bouchon Bakery:  On July 14, Chef Thomas Keller salutes France with his special Bastille Day tasting menu. Enjoy French classics such as merguez with baguette, moules au safran, macaroons, and chocolate crepes while sipping wine and champagne and listening to the soothing sounds of Kathleen Landis and quartet. Admission is $65 per person. 
10 Columbus Circle, 212-823-9366, www.bouchonbakery.com 
La Bonne Soupe:  With La Bonne Soupe's recent re-opening in its new bi-level space, guests are invited to enjoy a variety of French favorites off the regular menu such as salad Nicoise, quiche Lorraine, pommes frites and more.  Two special menus include one with French onion soup, salad, dessert and a glass of wine for $17.25 or the three-course prix-fixe dinner for $23.95. 
48 W. 55th Street, 212-586-7650, www.labonnesoupe.com.
Le Relais de venise L'Entrecote:  You may be in the Midtown location of this Parisian brasserie, but you'll feel like you're in France as you enjoy the $24 prix-fixe menu.  Try salad with nuts and mustard vinaigrette and steak frites, a house specialty.  Come see why Time Out New York critics voted this restaurant as "Best French for the masses."
590 Lexington Ave., 212-758-3989, www.relaisdevenise.com/newyork
SHOP
Pick up something fabulously French to wear at any of these shops:
Comptoir des Cotonniers:  The French chain has casual and chic items for a great summer festival.  155 Spring Street, 212-274-0830, www.comptoirdescotonniers.com
Ludivine:  The streets of Paris meet the West Village at this boutique carrying the latest and hard-to-find French designs.  172 West 4th Street, 646-336-6576, www.boutiqueludivine.com
Lanvin:  Why not add some glamour to your wardrobe?  For off-the-runway looks from Paris, Lanvin is the place to shop.  142 Greene Street, 646-613-9541, www.lanvin.com
Petit Bateau:  Kids will love dressing with a French flair from Petit Bateau's NYC store.  Larger sizes are perfect for the ladies as well.  1094 Madison Avenue, 212-988-8884, www.petit-bateau.us
Vilebrequin:  Live it up like you're on the beaches of Saint-Tropez at this shop featuring men's (and boy's) swimwear.  Fathers and sons can show off their toned physiques with French swim trunks that can double as shorts from this trendy Upper East Side shop.  1070 Madison Ave, 212-650-0353, www.vilebrequin.com
agnès b:  Step into this elegant shop featuring classic French pieces for women. Offering suits, pleated skirts or the perfect trench (and more), agnès b is the ultimate French line.  1063 Madison Avenue, 212-570-9333, http://usa.agensb.com/en