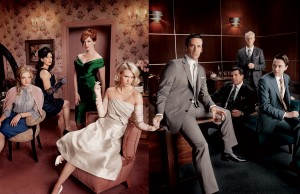 We've waited way too long to long to pick up with the escapades of our favorite Mad Men characters.  Will Betty reconcile with Don?  Will Don's marriage last?  What is Roger going to do this year (he really didn't do much of anything at the new ad agency)?  And are Joan and Peggy going to seize control from the men?  The two-hour premiere of the fifth season of "Mad Men" airs Sunday, March 25 at 9pm.  And where more appropriate to celebrate than in Manhattan, the heart of the Madison Avenue agency mecca?




You'll need to find your best 60s advertising-age clothes for these events which are sure to put you back into the Kennedy and Madison Avenue vibe.  It's time to celebrate the end of seventeen months without Mad Men.
The Carnegie Club -- This is one of the few places in NYC where you can still light up your Havana's and ignore all those health warnings.  At this cocktail and smoking lounge, there will be a viewing party with all the 60s-era classic cocktails plus cigars.  Try a Manhattan or an Old Fashioned, or perhaps a dry martini, all while puffing away without worry.  Sunday, March 25.  156 West 56th Street, 212-957-9676, http://www.hospitalityholdings.com/.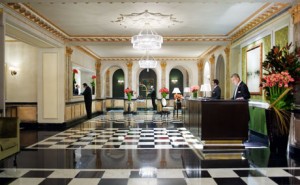 Two E Bar/Lounge – After you've recovered from Sunday's screening, you can keep the "Mad Men" mania going at The Pierre, a Taj Hotel, on Tuesday, March 27, with yet another Madison Avenue party.  The hotel is the locale for the Sterling Cooper Draper Pryce spinoff agency, so dress like Don, Roger, Betty, Joan and Peggy and you'll fit right in.  Cocktails featured are the classics along with a special one created just for Joan, the Bikini Martini, a concoction of gin, schnapps and blue curacao.  To set the mood, there's also a jazz duo.  2 East 61st Street, 212-940-8113, http://twoeny.com/.

Other Places Where Mad Men Drink– New York City has no shortage of bars and restaurants that Don Draper and crew frequent.  Two of our favorites that offer classic cocktails and a retro vibe are:
Sardi's – Featured regularly on the show, Sardi's is where Mad Men go to drink with some degree of privacy.  You'll also enjoy perusing the caricatures on the walls of guests past and present.  Today, Sardi's is a perennial favorite for theatergoers as well.  234 West 44th Street, 212-221-8440, www.sardis.com.
P.J. Clarke's – Many Mad Men cocktails have been consumed at this long-time favorite for burgers, oysters, and drink.  Hang out by the bar, or sit in the cozy dining room while you channel the spirit of advertising executives of several generations.  This 125-year-old saloon never goes out of style. 915 Third Avenue, 212-317-1616, http://www.pjclarkes.com/55-street-location.php