With the 2011 beach season already half way over, time is running out to show off this season's trendiest bathing suits and to come together for a little friendly beach sport competition. NYC beaches are officially open through Labor Day with lifeguards on duty from 10am-6pm and open concession stands.  Note, however, that beaches can be visited any time of the year but swimming is prohibited when lifeguards are not present due to the possibility of riptides and strong waves.  Subway and bus transportation makes having a car unnecessary, although parking lots are provided.
If crowds don't bother you and you want a distinctive beach experience, Coney Island is the beach of choice.  The beach is three miles long with courts for basketball, handball and beach volleyball, as well as multiple playgrounds.  There's also plenty of non-beach fun for those who get antsy sitting on the sand.  Thrill-seekers will enjoy the Cyclone rollercoaster and amusements at newly opened Luna Park .  A fishing pier is open seasonally. The boardwalk has endless food options but beach-goers swear by Nathan's Famous hot dogs for a delicious, cheap lunch. Year-round attractions include the Coney Island Museum, Coney Island Circus Sideshow and the New York Aquarium. Live outdoor performances take place throughout the summer, and you can stay current with the upcoming Coney Island events at http://www.coneyisland.com/. Free on-street parking is available.  For more beach info, visit http://www.nycgovparks.org/parks/coneyisland.
BUS: B36, B64, B68, B74, B82, X28, X29, X38.
SUBWAY: D, F, N, Q to Coney Island-Stillwell Avenue; F, Q to West 8th Street-NY Aquarium; Q to Ocean Parkway.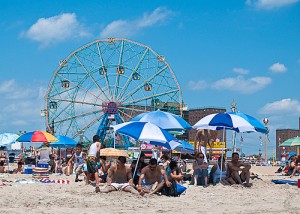 Manhattan Beach, Brooklyn
For a relaxing afternoon of sun, surf and beach volleyball, go to Manhattan Beach on the southern tip of Brooklyn. It's a smaller version of Brighton Beach and less crowded than Coney Island with fewer tourists. Nearby Manhattan Beach Park also has two baseball diamonds for a pick-up game, as well as handball, basketball, tennis and volleyball areas. Concession stands offer reasonable meal choices, and parking is available at Exit 8 off of Belt Parkway for a small fee ($6 Monday-Friday and $10 weekends and holidays). For more information, visit http://www.nycgovparks.org/parks/manhattanbeachpark.
BUS: B1 from Brighton.
SUBWAY: Take Q Train to Sheepshead Bay Road. B49 to Cheapside to Oriental and Hastings Street.
Rockaway Beach is an ideal outdoorsy retreat for both families and individuals. Its 10-mile long boardwalk is perfect for an afternoon stroll, and kids will enjoy the area's seven playgrounds. Teens and adults can skate or play volleyball. The beach is the only one near NYC to allow surfing: go to the designated zones between 67-69 streets and between 87-92 Streets (visit http://www.nycgovparks.org/facilities/beaches for more information about surf beaches). Surfboards can be rented on the beach. Grab lunch at Ciro's Pizza, which is a favorite among beach-goers. The beach offers free street parking, as well as free parking lots at B. 11th-B. 15th St. and B. 95th St. For further information, visit http://www.nycgovparks.org/parks/rockawaybeach.
BUS: Q22 from bus terminal on Archer Avenue.
SUBWAY: A to Broad Channel then shuttle train.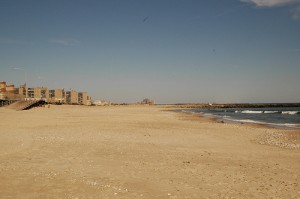 Orchard Beach, the Bronx
Located at the end of a long, winding path, in an area with lush vegetation, Orchard Beach is harder to get to, meaning that it is usually less crowded than other New York choices although it is very popular among local residents. There are 26 athletic courts for basketball, handball and volleyball, as well as two playgrounds. The central pavilion is the place to go for lunch and shopping, as it houses several food stores and specialty shops.  Parking is available for $6 Monday-Friday and $8 on weekends and holidays. Visit http://www.nycgovparks.org/sub_your_park/vt_pelham_bay_park/vt_pelham_08.html for more information.
BUS: Bx12, Bx29, Bx5, Bx52, and Westchester Line number 45 serve the park. During the summer, take Bx5 and Bx12 to Orchard Beach. During the winter, take the Bx29 to the City Island Circle and walk to the beach.
SUBWAY: Take the 6 line to Pelham Bay Park. Connect to bus (see above).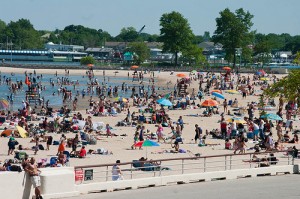 Wolfe's Pond Beach, Staten Island
Wolfe's Pond Beach is an oasis far enough away from the hustle and bustle of the city that the only trace of Manhattan is a distant view.  Adjacent to Wolfe's Pond Park, the manicured beach offers several fun attractions for the whole family. Two tennis courts, a roller hockey rink, basketball courts and a playground will keep the kids busy all day long. Wolfe's Pond Beach also has dog-friendly amenities, including an enclosed dog-only area. Several trails run through the beach and park, and there are BBQ areas as well. There's a free parking lot on-site. Visit http://statenislandusa.com/pages/south_shore.html#wolfes for more information.
BUS: #78 to Tottenville. Get off at Cornelia and Highland Blvd, walk up Cornelia. SUBWAY: Take Staten Island Transit to Hugenot Avenue, then walk toward Highland Boulevard.