Looking for some ways to stay fit without going to the gym?  New York City beckons you to play outside this summer with a variety of free or reservation programs:
Zumba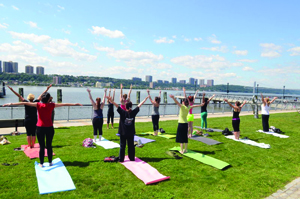 Do you love Zumba?  Every Saturday throughout the summer, Shape Up NYC offers a free Zumba class, from 11am-12Noon, at West Harlem Piers Park at West 125th Street.  No pre-registration is required. Shape Up NYC Zumba . Shape Up NYC is an NYC Parks program run in partnership with Equinox fitness clubs. For other free Shape UP NYC programs throughout New York City and Brooklyn, visit www.nycgovparks.org.
Walk
Also free, and sponsored by NYC Parks in conjunction with Empire Blue Cross Blue Shield, Walk NYC offers a program of one-hour guided walks in the Bronx, Queens, Staten Island and Brooklyn. Walks are scheduled throughout the day in a variety of parks.  An accessible version of this free program, called Walk 'n Roll, is given in the Bronx on Monday, Wednesday and Saturday mornings.  For a specific schedule, click here.
Fitness Conditioning
Thursdays throughout the summer. 6:45-7:45pm.   $39.  Get in shape for any sport with Discover Outdoors' "Adventure Fit" class.  www.discoveroutdoors.com .  Led by fitness instructor Curtis Williams, a former NFL athlete and a performance coach, the classes mix high-intensity cardio with strength training, following techniques and principles used to train the pros. Classes accommodate multiple fitness levels and are geared for the outdoor enthusiast.  You can try one session or come back for others during the month to push yourself to a new level. Meet at the entrance to Central Park, at 72nd Street and Fifth Avenue.  Dress in appropriate athletic gear and bring a towel and water.
Yoga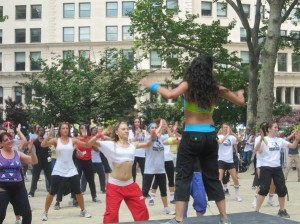 Saturdays and Sundays through September 22.  Channel your inner yogi with Central Park Yoga by the Turtle Pond.  On Saturday from 9-10am, or Sunday from 10-11am, you'll find out why doing a downward facing dog is so much more appealing when the view is of Belvedere Castle instead of a gym wall.  Even handstands seem easier on the grass.  Bring a mat, water, and a towel.  centralparkyoga.com.  Classes are $20 each, or $140 for a 10-class card.  Meet Kirtan Smith (Saturday) or Lisa Langer (Sunday) at the entrance to Central Park at 81st Street and Central Park West.
Boot Camp
Stacy's Boot Camp is a three-week session designed to push you to your limit.  Three summer sessions, June 24-July 12, July 22-August 9, or August 19-September 6, will help you advance your fitness level while you take advantage of the natural props that Central Park offers. Bring one-gallon water bottles, gloves, a towel, and a sense of determination. Multiple park locations will help you stick to your resolution to get outside and sweat.  Classes are offered in Central Park, Battery Park, and Washington Square Park with morning and early evening schedules. Pricing varies depending on whether a package of one, two or three weekly classes is selected.  For more details and to book, www.stacysbootcamp.com.