Happy New Year and happy first snowstorm of the year – it's a no-school snow day.  Keep this updated 2014 guide handy for fun places to go sledding in the city.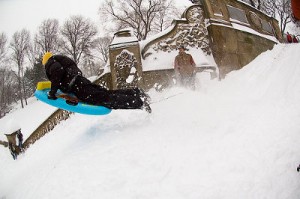 MANHATTAN
Central Park on the East Side and Riverside Park on the West Side are the destinations of choice for snow action:
Cedar Hill in Central Park on the Upper East Side (Fifth Avenue between 76th and 79th streets) is my favorite Manhattan locale, but be prepared for lots of people
Pilgrim Hill in Central Park on the Upper East Side (Fifth Avenue and 72nd Street) – its long slope is my other favorite when I don't mind crowds and a bit of mania
Near the Metropolitan Museum on the Upper East Side (Central Park, Fifth Avenue and 81st Street)  – gentler slope that's great for little kids (behind the Ancient Playground)
Riverside Park on the Upper West Side, Riverside Drive at 103rd Street – for adults and kids alike
Riverside Park on the Upper West Side, Riverside Drive at 91st Street – much scarier; not recommended for children. There's a reason it's called "Suicide Park."
Also on the Upper West Side, St. Nicholas Park has a long, steep hill that divides the Harlem side from the Morningside Heights side.
At the northern most point of Manhattan, Inwood Hill Park has good sledding. Near Dyckman Street and the Hudson River.
QUEENS
Forest Park – sledding is popular on the golf course with its three hills and at the Mary Whalen Playground at 79th St and Park Lane South
Juniper Valley Park at 75th Street and Lower Highland Park
Crocheron Park along the bay offers both easy and steep hill sledding. 35th Avenue between the Cross Island Parkway and 215th Street.
Check out Astoria Park's hills by entering at 19th Street and Shore Boulevard.
THE BRONX
Ewen Park – a steep hill with the added benefit of stairs to climb back up, Riverdale Avenue at 231st Street
Van Cortland Park – Also in Riverdale, shallow hills but lots of area to sled. This one is easy to get to via the 1 train to 242nd Street or the 4 train to Woodlawn.
Yet another Riverdale spot, Henry Hudson Memorial Park that will challenge you with its drops straight down to the Hudson River.  Kappock Street near Palisade Avenue
Crotona Park at Fulton Ave between Crotona Park North and 172nd Street – a great area for kids of all ages.  The slope is located behind the ballfield.
STATEN ISLAND
Clove Lake Park – a family destination, Martling Avenue at Slosson Avenue
Dead Man's Hill in Silver Lake Park. Enter at Forest Avenue and Victory Boulevard.
BROOKLYN
Fort Greene Park – The steepest area is of the park's four hills is at the back part of the hill leading down to Myrtle Avenue; the smallest hill is near Willoughby entrance of Myrtle Avenue. Entrance to the park is on Myrtle or DeKalb avenues.
Prospect Park has many choices:

9th Street and Prospect Park West, a good downhill run
The Nethermead, rolling hills in the Picnic House area
The Long Meadow Slope—Tennis House Area in Prospect Park
Vanderbilt Playground – off of Prospect Park Southwest

Sunset Park — Enter at 41st/44th Street and 5th Avenue.  The hill is in the park between 42nd and 43rd streets.  Great views of the State of Liberty, too.
Owl's Head Park in Bay Ridge (at Shore Parkway, Shore Road, Colonial Road and 68 Street). Hill is at Shore Road and 97th Street.
Brooklyn Heights' dog park by Harry Chapin Playground, near the Brooklyn Heights Promenade and Brooklyn Bridge Park
Clumber Corner in DUMBO near the BQE and Washington Street