If you haven't been over to Times Square and Broadway yet, you're in for a week of Super Bowl festivities.
Last night saw the testing of the New Jersey-New York
Super Bowl Toboggan
on
Super Bowl Boulevard
.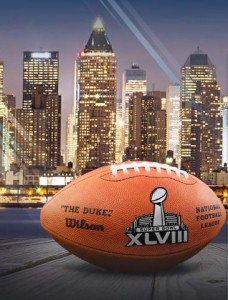 A very chilly experience at 41st Street and Broadway. Broadway will be closed to cars from 47th Street to 34th Street so pedestrians can enjoy the shops, merriment and snacks amid the freezing temperatures. You can also register on-location for free access to the NFL Network, ESPN and FOX broadcast sets as well as the Vice Lombardi Trophy display.  Some of the fun activities: take a photo with the Vince Lombardi Trophy, receive free autographs from NFL players, kick a field goal through NFL uprights, ride the 60' toboggan, and enjoy giveaways and snacks throughout.  Broadway between 47th and 34th streets, Manhattan. http://www.nfl.com/static/content/public/photo/2014/01/27/0ap2000000318290.pdf ; http://www.nfl.com/superbowl/48/events/boulevard
Other activities scheduled for the week are equally fun. Be sure to check out some of these.
Want some culture?  Madison Square Garden will have you calling out and dancing to the 15th Annual
Super Bowl Gospel Celebration
led by Patti LaBelle, Mary Mary, Tamela Mann and the NFL Players Choir at 7:30pm on Friday, January 31 at the
Theater at Madison Square Garden
.  Tickets start at $45.  4 Pennsylvania Plaza, Manhattan
http://www.theateratmsg.com/events/2014/january/the-15th-annual-nfl-super-bowl-gospel-celebration.html
Our favorite cultural institution, the Metropolitan Museum of Art, shows off a more popular form of collection this week: the vintage football card collection of Jefferson R. Burdick.  Burdick, an electrician from Syracuse, NY, collected some 303,000 cards through 1963. On display are 150 football cards in an exhibit entitled "Gridiron Greats." Through February 10.  1000 Fifth Avenue at 82nd Street, Manhattan. http://www.metmuseum.org/about-the-museum/now-at-the-met/2014/highlights-of-gridiron-greats
If you've missed the football greats making guest appearances at Super Bowl Boulevard on Broadway, you'll have another opportunity to meet a legend in person… in the Bronx. At the Bronx Terminal Market, former New York Giants running back and Super Bowl XXV MVP Ottis Anderson will do a meet-and-greet and sign autographs between 1pm and 2pm. From Noon-3pm, there will also be a free throwing clinic conducted by local college football players.  Other activities to be announced. "Touchdown at Bronx Terminal Market." Saturday, February 1. 610 Exterior Street, Bronx. http://bronxterminalmarket.com/pages/events.aspx
If your child is too young for all this but still obsessed with sports, head back to Manhattan to the Children's Museum of Manhattan. Here football takes over their myriad hands-on experiences with a play obstacle course, an instant-replay booth, and arts-and-crafts programs for kids to design their own referee flags, puppets and NFL coins.  "You Make the Call: Learn to be an NFL Official" exhibit. Through February 28. 212 West 83rd Street, Manhattan. http://www.cmom.org/