Through August 7, fashionistas and non-fashionistas alike can bask in the colorblock glow of Isaac Mizrahi at the Jewish Museum on the Upper East Side.  Designed to admire and explain the inspirations behind the Brooklynite's provocative and colorful collections, the "Isaac Mizrahi: An Unruly History" exhibition pieces together sketches, storyboards and fabric swatches from the designer's 30-year career with footage of models wearing the actual items displayed.  "It's a rare opportunity to have these two groupings come together in one exhibit. Watching the supermodels strut their stuff in Isaac's dresses is wondrous enough. But to see the dresses and all on mannequins within inches of you, is truly a rare experience," explained guest curator Chee Pearlman.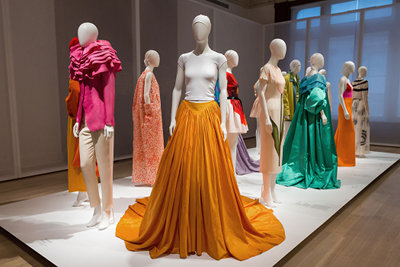 Mizrahi may be most recently known for his performances in the documentary Unzipped and on Project Runway All Stars, or for his QVC and Target collections – especially among younger fans — but it's the couture items that really turn heads.  Take, for example, two of his earliest "High and Low" dares: mixing a t-shirt fabric top with a taffeta ball skirt bottom, or creating a gown from elevator padding materials.  Or his "The Real Thing" dress made of paillettes from Coca-Cola cans, laboriously beaded together on a 60s silhouette sheath.  There's also a room with video showing Mizrahi-designed clothes worn by Sarah Jessica Parker on "Sex in the City" and Sarah Bernhard while doing stand-up comedy, as well as unusual costumes created for the Guggenheim Museum's annual presentation of Peter and the Wolf and the frog attendants in the 18th-century French opera Platée.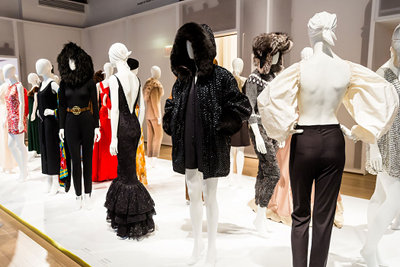 The exhibit has been built to be movable, with a limited run at the Jewish Museum.  So why the fuss about a designer who is still alive?  Isaac Mizrahi is the real deal when it comes to New York City. He's a 21st-century Renaissance man who loves life, embraces everything for what it displays, and re-gifts it in ways that break boundaries and challenge the imagination.  From his humble beginnings as a Yeshiva boy in Brooklyn, to his late 1980s entry into the design world, followed by forays into television, film, dance, and theater, Mizrahi displays a talent for imagination and vibrancy.  You may love some of the designs. You may be puzzled by others. But you will be hard-pressed not to leave with a vivid impression of this multi-talented polymath.
Museum admission is $15 for adults, $12 for seniors and $7.50 for students from Sunday-Friday (closed Wednesday).  Admission is free on Saturday, and Thursday from 5-8 are Pay What You Wish nights.  The Jewish Museum, 1109 Fifth Avenue, at 92nd Street.  http://thejewishmuseum.org