Last week's "Stars in the Alley",  United Airlines' and the Broadway League's presentation of Broadway song and dance, left me thirsting for more.  It's a great time to get your tickets to a Broadway drama or musical. With the Tony Awards for outstanding theatrical achievement this Sunday, you'll want to snag seats on your preferred dates before the shows book up.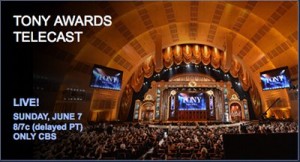 The Tony Awards turn into a free, social viewing party this Sunday in Times Square, rain or shine.  Head over to Times Square to see the award show live, on the big screen.  Although it might not be as glamorous as dressing in black tie to hob nob with the stars of the Great White Way or hosts Kristin Chenoweth and Alan Cumming at Radio City Music Hall, it's still a fun evening for theater lovers and more exciting than "sitting all alone in your room" watching TV.  You can bring a picnic with you, grab a folding chair or a seat on the risers behind TKTS, and cheer for your favorites.  Viewing will be on the Clear Channel Spectacolor screens at Duffy Square and the Broadway Plaza between 46th and 48th streets, in the heart of Times Square.  The program begins at 4pm, ending at 11pm. The simulcast of the CBS Tony Awards will be broadcast starting at 8pm.
Festivities will also include live performances from Broadway stars Justin Guarini and Deborah Cox, singing "I've Got Rhythm" and "On Broadway,'" Deborah Cox singing "Easy as Life" from Aida, and Jeanna de Waal singing "History of Wrong Guys" from Tony-award winner Kinky Boots.
Here are some of my favorites that are contenders for a variety of Tony Awards: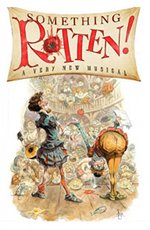 Something Rotten! – This musical's a laughfest from start to finish, as the poets of the Renaissance put together what could be the most hilarious musical ever.  A lot of "insider" references to musicals make this the perfect show for theater junkies. I'd be shocked if the male lead and featured actors, Brian d'Arcy James and Christian Borle, don't get some sort of acknowledgement.
The Audience – No one plays the Queen like Helen Mirren. She's charming, grand, self-deprecating, and even funny.  Her meetings with her prime ministers are a primer in British history.
Hand to God – An evil puppet, creatively nasty dialogue, and an inventive plot make this one of the season's top go-tos among non-musicals. Can they give a Tony to Tyrone (Steven Boyer)?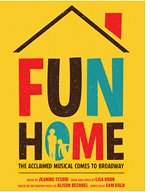 Fun Home – The cast is top-notch in the offbeat musical about family interactions. Although the show moved to Broadway from its downtown home, the Circle in the Square is still an intimate venue for the action.
An American in Paris – Go for the music, the dance, the beautiful sets and the lushness of the Broadway version of the beloved Gene Kelly movie.
The full list of Tony nominees can be found at http://www.tonyawards.com/en_US/nominees/