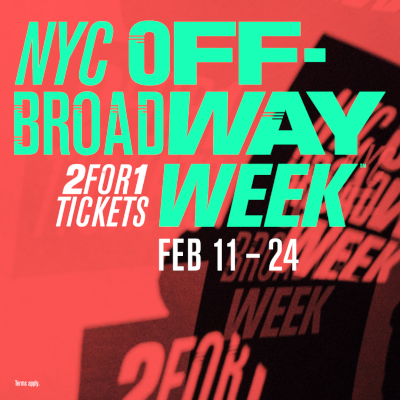 If you missed your chance to score half-price tickets to some of the Broadway shows in the NYC Broadway Week special that just ended, you can expand your horizons now with 2-for-1 tickets to more than 30 of New York City's best off-Broadway productions. In fact, it's a perfect gift for Valentine's Day too. It's NYC Off-Broadway Week.
NYC Off-Broadway Week, now in its 10th year, starts on Monday February 11 and runs through February 24. Of the 33 shows offering specials, twelve are new participants this year. (It really should be called Off-Broadway Two Weeks, but that doesn't really have a good ring to it.)
It's also a last chance to see one of Off-Broadway's regulars Avenue Q which closes April 28.  Along with Off-Broadway standbys like Blue Man Group and STOMP, you can get these well-priced tickets to newish shows like the recently extended hit "Colin Quinn: Red State Blue State" and the "Harry Potter" parody "Puffs, Or: Seven Increasingly Eventful Years at a Certain School, of Magic and Magic." Also participating are two of my favorites, "The Play That Goes Wrong" and "Jersey Boys" which both moved from Broadway to Off-Broadway, making them even more of a bargain at these prices.
Here's a full list of shows participating in NYC Off-Broadway Week:
Alice By Heart
Avenue Q
Beauty and The Beast
Blue Man Group
Boesman and Lena
By the Way, Meet Vera Stark
The Cake
Colin Quinn: Red State Blue State
The Dance of Death
Drunk Shakespeare
Gazillion Bubble Show
Gloria: A Life
God Said This
Hurricane Diane
If Pretty Hurts Ugly Must Be a Muhf***a
The Imbible: A Spirited Jersey Boys
La Celestina
Mies Julie
Monday Night Magic
Musicals in Mufti: Alan Jay Lerner Celebration
Naked Boys Singing
NEWSical The Musical
The Other Josh Cohen
Perfect Crime
The Play That Goes Wrong
Puffs, or: Seven Increasingly Eventful Years at a Certain School of Magic and Magic
The Shadow of a Gunman
Sistas The Musical
STOMP
Superhero
History of Drinking
This One's for the Girls
We are the Tigers
For ticket information, https://www.nycgo.com/off-broadway-week.