Valentine's Day dining is a tradition in New York City.  Most restaurants offer something special, be it a special menu, complimentary flowers or chocolates, or red and pink cocktails.  Sometimes a burst of creativity spawns other distinctive romantic twists.
We begin our 2013 picks with four fun and romantic choices in Brooklyn, evenings that are designed to further ignite your inner Cupid.  Don't wait long to book – space is limited on this prime "date night."
La Gringa Taqueria, Williamsburg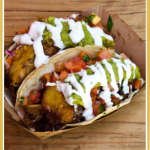 Movie evenings are a key part of the dining experience at this Cali-style Mexican.  Valentine's Day is no different, and the February 14 screening will be Baz Luhrmann's "Romeo + Juliet," shown under the Army tent in the restaurant's backyard.  A wood-burning stove heats the space which is kitted out with comfortable seating.  Just bring your gloves if you're prone to chills.  Movie tickets and hot chocolate are free; nachos, tacos. quesadillas and burritos are available for purchase, all made with sustainable ingredients.  The movie starts at 7:30pm and reservations are strongly suggested.
www.gringataqueria.com, 800 Grand Street, Brooklyn, 718.388.0055