Manhattan never lacks for great bars, and our "Mad Men" friends would have felt perfectly comfortable entertaining in any of these in our Part II of classy drinking spots.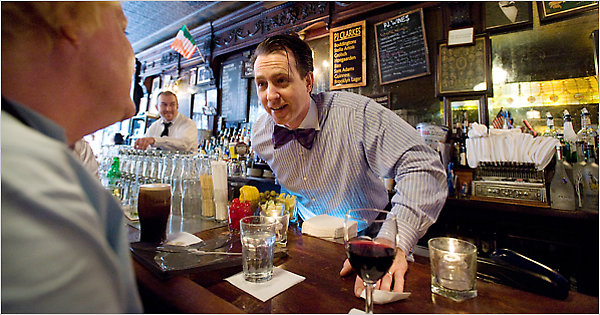 Image: The New York Times
P.J. Clarke's: Nearly 130 years old, P.J. Clarke's still appeals to the after-work drinking and dining set.  The neighborhoody bar serves up ice-cold beers, oysters on the half, and terrific burgers to a crowd of ad execs and locals.  It's the perfect spot for mingling, meeting a blind date, or celebrating a copywriting success as Peggy did. 9015 Third Ave., 212-317-1616. www.pjclarkes.com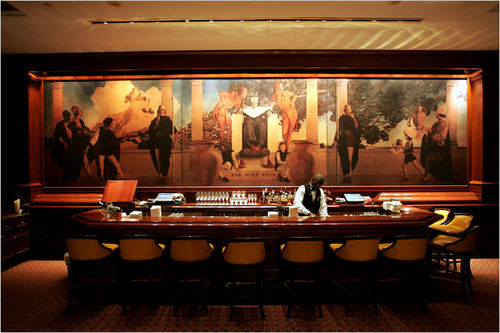 Image: Time Out Newyork
King Cole Bar: Once a bastion of cigar-smoking power brokers or account types like Ken Cosgrove and Pete Campbell, the newly reopened King Cole Bar in the elegant St. Regis Hotel is the birthplace of the Bloody Mary, known here as the Red Snapper. This classic bar also is known for its famous and recently refurbished mural, "Old King Cole" by Maxfield Parrish. St. Regis Hotel, 2 E. 55th St., 212-753-4500. www.kingcolebar.com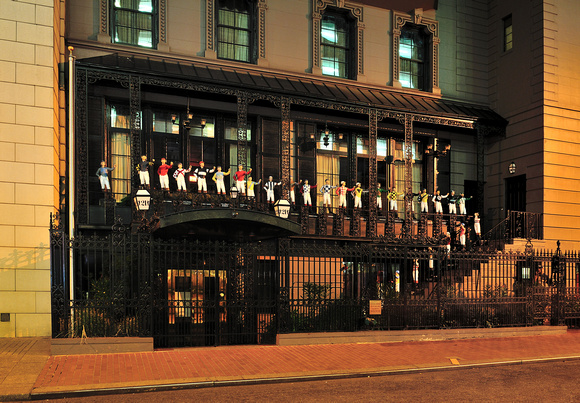 21 Club: Infamous for its Prohibition-era speakeasy status, this restaurant has attracted every president since FDR (except George W. Bush) to dine or imbibe. Come for a martini just like James Bond in 007 or try a Southside, the rum and mint cocktail invented here. It's quiet enough, too, that Ted and Peggy could have shared a drink at the 21 without having had to escape to an afternoon Roman Polanski movie.  21 W. 52nd St., 212-582-7200. www.21club.com.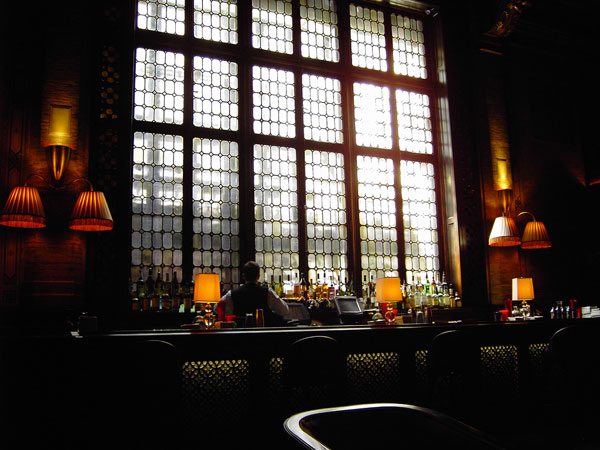 Image: Biting the Big Apple
Campbell Apartment: This luxurious lounge in Grand Central Terminal will bring you back to another era. The space, once used as an office for New York financier John Campbell, still exudes the same sleek, refinement with its low lighting, rich woodwork and beamed ceiling.  Take a seat on the balcony for extra privacy.  We'd recommend the Prohibition Punch for aptly named Pete Campbell.  15 Vanderbilt Ave., 212-953-0409. www.grandcentralterminal.com/store/2137026178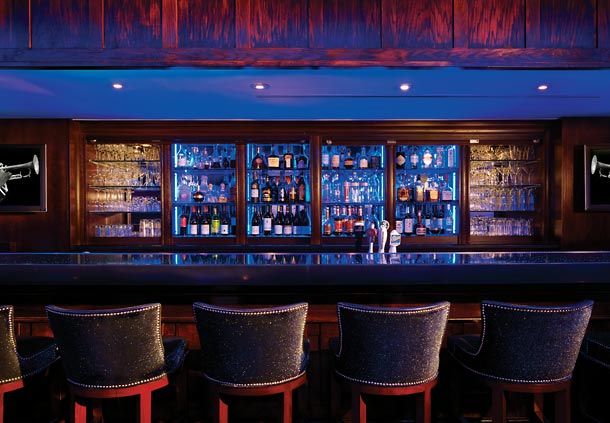 Image: Trip Advisor
The Blue Bar at the Algonquin: Once the hot spot for literary geniuses like Dorothy Parker and Robert Benchley, The Blue Bar is filled with Al Hirschfield's artwork depicting a variety of Broadway shows. The cozy bar with its blue upholstery is known for the Algonquin Cocktail, a mix of whisky, dry vermouth, and pineapple juice.  It's reputed that the literary ghosts of times past will even sit with you to provide inspiration and absorb the black-tie service. The Algonquin Hotel, 59 W. 44th St., 212-840-6800.  www.algonquinhotel.com/blue-bar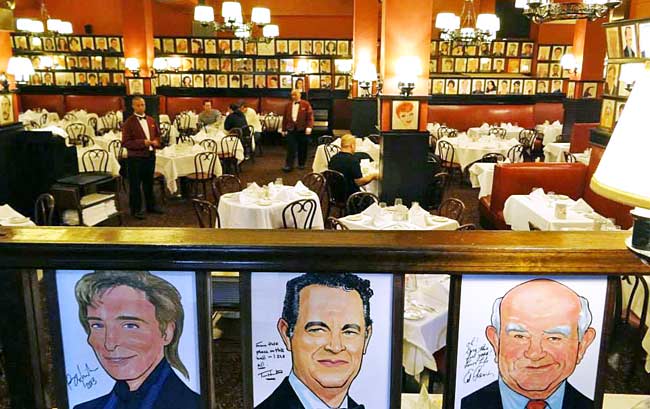 Image: NewYork.com
Sardi's: Since 1921, this legendary restaurant with celebrity caricatures adorning its walls has served as the spot for before or after theater. It's also a favorite rendezvous spot for Don Draper and his lady friends (pre-Megan, of course).  To behave like a true "mad man," book a table on Thursdays and Fridays for jazz and cabaret and skip the cocktail: a bottle of Dom Perignon is more in keeping with the mood. 234 W. 44th St., 212-221-8440. www.sardis.com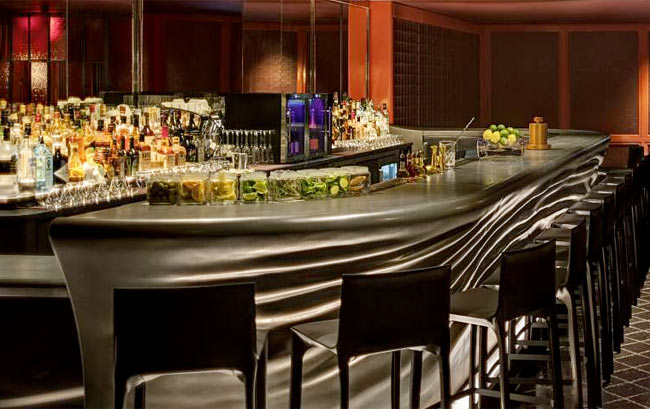 Image: NewYork.com
Trouble's Trust at the New York Palace: New to the scene in 2013, the re-imagined and appropriately named bar in the former Villard Mansion is the modern version of the King Cole Bar. Perfectly hidden away under the lobby's grand staircase, the bar entices with "vintage specialty" cocktails that Betty and Henry would have enjoyed on a trip into the city.  It's easy to imagine Betty with her blonde updo and stylish attire poised on one of the bar's sleek leather banquettes.  My guess is that she would have chosen The "Queen of Mean" cocktail if she could have fast-forwarded a few decades, a potent mix of whiskey and gin.  Henry, being the politician that he is, would have no doubt opted for a turn-of-the-century "Bronx Cocktail." 455 Madison Ave., 212-888-7000. www.newyorkpalace.com/dining/trouble-s-trust