For years, I've joined the mobs of cars heading up to Vermont to catch a glimpse of the yellows, reds, greens and browns of the fall trees. Beautiful to look at, right? But the traffic is killer. This year, I did it right. Taking advantage of Manhattan's waterside location, I boarded Classic Harbor Line for a four-hour Fall Foliage Cruise up the Hudson River. Departing from Chelsea Piers, Pier 62, the restored vessels travel north until the George Washington Bridge where you can view the Palisades on the left and Morningside Heights on the right, all bedecked in fall's finest. Food is included, depending on which cruise you choose, plus beverages like spiked hot chocolate to keep you warm. Bundle up — the breeze off the water can be quite intense — even through the fleece blankets that you're given to help.  If you really want to stay warm, just stay indoors and peer through the oversized windows or through the skylights of the ship's heated and enclosed observatory.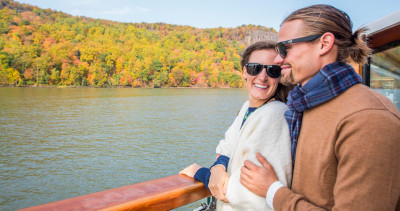 If you miss the foliage departures, there are three holiday cruises coming up later this month that you won't want to miss, perfect for a party on the water.
My recommendations:
The Fall Foliage Brunch Cruise on board the Manhattan, weekends only, is a party with a four-course brunch buffet including complimentary bloody Mary, mimosa, beer, wine or champagne.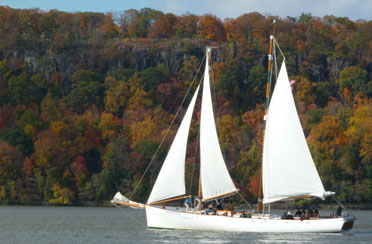 For something less formal, book a sail on the 80-foot Adirondack, a gorgeous 1890's-inspired pilot schooner. Bring your own picnic and the boat supplies the drinks (alcoholic, of course, and with warm-up boozy hot cocoa.)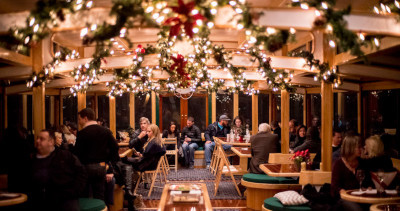 Starting November 23, get festive with a Cocoa and Carols Holiday Cruise. The vintage yachts are kitted out in holiday dress while showcasing New York City harbor all lit up. Listen and sing along to classic carols backed by a live band. It's definitely a fun time, and you'll receive one complimentary drink (including the aforementioned spiked hot chocolate) along with homemade cookies and treats.
If you love jazz, the Holiday Jazz Cruise is your ticket to a 1920's-style soiree. On Fridays, Saturdays and Sundays beginning November 26, afternoon and evening departures are all about romance on a luxury 1920's style yacht resplendent with festive décor. A live jazz trio entertains playing holiday tunes and you'll enjoy cookies and spiked cocoa, beer, wine or champagne.