If you're thinking about something to give the theater lover in your family this holiday season, tickets to one of these shows soon ending their runs are the perfect gift.
Hurry now to get tickets to these seven gems:
The Color Purple – The musical version of Alice Walker's Pulitzer Prize-winning novel closes its Tony-winning revival on January 8. The powerful story of an abused African-American woman in the American South won Cynthia Erivo a Tony Award. The show also features Danielle Brooks (Orange is the New Black) and Tony and Grammy-winner Jennifer Holliday. The gospel, blues and ragtime tunes are brilliant.  www.colorpurple.com.  Bernard B. Jacobs Theatre, 242 West 45th Street. Tickets: www.telecharge.com or 212.239.2600.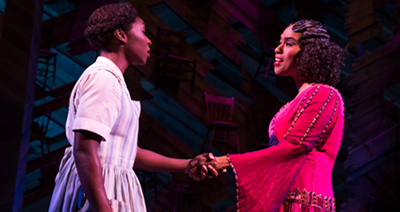 The Encounter – Unlike anything you've ever experienced on Broadway, this smash from London surrounds you in immersive sensory brilliance.  Told by actor Simon McBurney and using 3D audio, it is the startling story of National Geographic photographer Loren McIntyre who was lost among the people of the remote Javari Valley in the Amazon rainforest. Be prepared, there's no intermission and you can't leave your seat as you're tethered to it by your headphones. Closes January 8 as well. John Golden Theatre, 252 West 45th Street.  www.theencounterbroadway.com. Tickets: www.telecharge.com or 212.239.6200.
Fiddler on the Roof – The 50th anniversary revival of this wondrous show ends its run on December 31. Danny Burstein plays Tevye, a character that is truly larger than life, in this musical about a Jewish community on the eve of the Russian Revolution. The show revolves around the marriage of Tevye's three daughters and includes songs that have become part of Broadway legend like "Sunrise, Sunset," "If I Were a Rich Man," and "Tradition."  www.fiddlermusical.com.  Broadway Theatre, 1681 Broadway. Tickets: www.telecharge.com or 212.239.6200.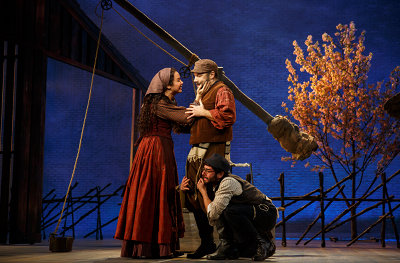 Jersey Boys – The boys from New Jersey will play their final show on January 15. The story of the rise of Frankie Valli and the Four Seasons will have you on your feet as you join the quartet in singing "December 1963 (Oh What a Night)." You know all the songs ("Sherry," "Big Girls Don't Cry," "Can't Take My Eyes Off You," but even if you don't, you'll still be humming and tapping along to the story behind those wondrous voices that took the radio waves by storm in the latter part of the 20th century. www.JerseyBoysBroadway.com. August Wilson Theatre, 24t5 West 52nd Street. Tickets: www.ticketmaster.com or 877-250-2929.
Matilda the Musical – This brilliant, Tony-Award winning show about the children in Roald Dahl's book, will no longer be "a little bit naughty" after January 1. Another West End transplant, the musical tracks the life of precocious Matilda, her abusive parents, and her disheartening school experiences and how Matilda decides to change her destiny. The music is catchy and the kids are fantastic. www.matildathemusical.com.  Shubert Theatre, 225 West 44th Street. Tickets:  www.telecharge.com or 212-239-6200.
Oh, Hello on Broadway– In this season of less-than-funny news and change, Oh, Hello has brought welcome laughs to Broadway audiences. John Mulaney and Nick Kroll of Saturday Night Live and Comedy Central fame play two crusty Upper West Side bachelors who have a flair for the theatrical. You'll have to pay attention to catch all the lines and fabulous zingers, which can sometimes get lost under the audience laughter. Each night's performance features a surprise performer. For New Yorkers, this is a must-see. Closes January 22. www.ohhellobroadway.com. Lyceum Theatre, 149 West 45th Street. Tickets: www.telecharge.com or 212.239.6200.
Something Rotten – Shakespeare was never as cool as in this wonderful musical about the creation of the world's first musical. Adam Pascal from the original production of Rent plays the Bard. But all good things must come to an end, and so must the Renaissance: Something Rotten closes on January 1.Broadway musical fans should pay attention to all the shows mentioned especially in the opening number. Something Rotten is a tribute to every musical that ever was and is. www.rottenbroadway.com.  St. James Theatre, 246 West 44th Street. Tickets: www.ticketmaster.com or 877.250.2929.