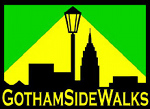 Collage artist and founder of Gotham SideWalks tours, Rich Garr, spent this winter refining two tours that blend specific cultural history with the fabric of rapidly evolving neighborhoods. These mash-ups of art, history and architecture utilize local characters and props that are both new and old. The tours are similar to his art process: a visual representation of surroundings. But while his studio art is two-dimensional, the tours offer something for all senses. Sights, sounds, and smells of New York City mix with music (yes, there's music on these tours) and voices from past and present. The results are extraordinary, and on display this through July. www.GothamSideWalks.com. For more details or to book, call 718-938-1400.
BIKE BROOKLYN BASEBALL: a history of baseball and Brooklyn
Sunday 6/8  *  Saturday 7/12
11:30 am – 2:30 pm, $40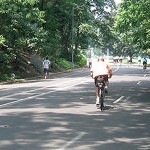 100 years of baseball in 10 miles and 3 hours of biking! Whether you're from Brooklyn or not you've probably heard about the great local ball clubs of the 1950s. The Yankees, Dodgers, and Giants battled in New York to rule the major leagues. In fact, 14 of the 20 pennants from the 50's belonged to a NYC team. But there's so much more! Brooklyn alone holds an unprecedented place in baseball history. Far beyond Jackie Robinson and the color barrier, the quirks of Ebbets Field, or the meteoric rise of Brooklyn's own Sandy Koufax lies the unbelievable roots of our nation's pastime. The tour trips back in time into the mid-1800s and gentleman club "base ball" and explores into the modern era and the exodus of the Dodgers in 1957… all this while traversing along one of the finest circuits of urban bike paths in the country. Neighborhoods visited include Park Slope, Flatbush, Prospect Heights, Boerum Hill, Downtown Brooklyn, Carroll Gardens, Gowanus, Cobble Hill, and Brooklyn Heights. The rolling greenery of Prospect Park is also in the mix.
STREET / ART, Lower East Side
Saturday 5/31  *  Saturday 6/21  *  Friday 6/27  *  Sunday 6/29  *  Sunday 7/13
1-3 pm, $30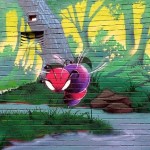 Discover how the chaos of the Lower East Side has shaped—and continues to shape—the destiny of the art world. There's an amazing amount of street art in New York City whether Banksy (English) or Invader (French) have "residencies" here or not. See and learn who and what inspired today's fascinating mix of paste-ups, stencils, memorials, tags and throws. Get the context behind Banksy's October street art blitz right here in the streets where hip hop and graffiti began. Besides the latest street art, the tour will also explore earlier art in and about the streets by talking early photography and painting. The tour stops into a half dozen art galleries along the way, comparing and contrasting street art and graffiti techniques with art on the gallery walls. In the areas visited, historic tenements mix with bold architectural innovation in this eclectic and ever-evolving neighborhood. This amazing morning ends at the edge of the East Village between two of NYC's most famous street art sites. No tour is ever the same. In addition to the aforementioned street artists and samplings from contemporary art stars, we typically find Shepard Fairey, Stikman, LEE, Kenny Scharf, Nick Walker, Hanksy, and COPE pieces along the route.