Don't miss this one. Be sure to tune in Thursday, September 17 at 8pm for this finale to the SummerStage Concert Series.
The SummerStage Jubilee, a free benefit concert supporting CPF's programs in parks, is an hour-long digital event via livestream. The line-up is amazing: Sting, Norah Jones, Trey Anastasio, Rufus Wainwright, Leslie Odom Jr., Rosanne Cash, Emily King and PJ Morton. The event highlights the various City Parks Foundation programs and will also showcase notable advocates for CPF's work including sports icon and champion of equality Billie Jean King, television and radio host Ryan Seacrest, television host and musician Jimmy Fallon, musical artist H.E.R., comedian Lewis Black and performer and Late Show bandleader Paul Shaffer.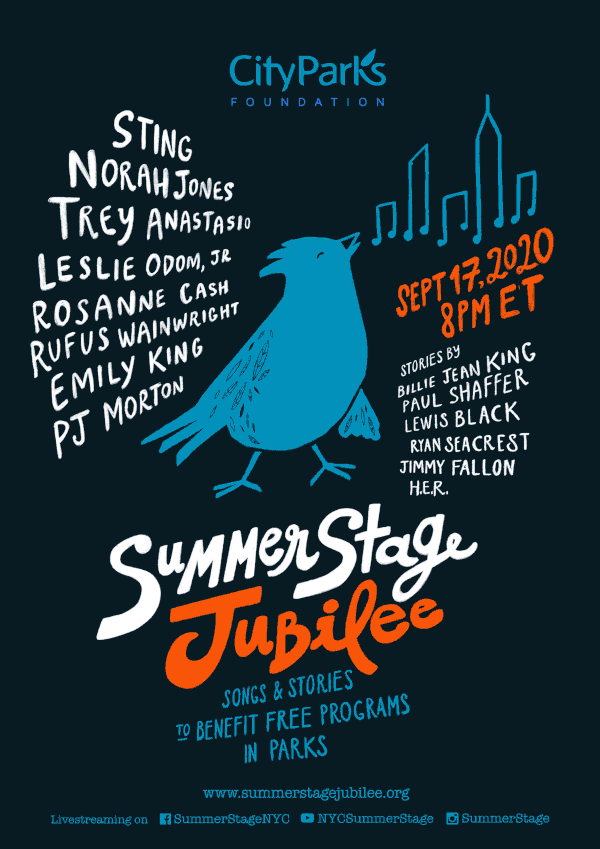 This digital benefit can be accessed via SummerStage Instagram, SummerStage YouTube, Facebook page as well as through Bowery Presents, Brooklyn Bowl, The Capitol Theatre, FANS.com, iHeart Media's Q104.3, Live Nation, Live for Live Music, Relix, Time Out New York, and WFUV. New York City and tri-state area residents can watch encore presentations of SummerStage Jubilee on Saturday, September 19 at 7pm on WLNY-TV 10/55 and on Sunday, September 20 at 2pm. The gala can also be viewed nationally on demand on AXS TV for 30 days.
At a time when public programs have been upended by the COVID-19 pandemic, New York City's parks have remained open and park programs have been scheduled virtually. The 2020 SummerStage Jubilee Benefit Concert will help support these program and donations will also help ensure SummerStage, New York City's largest free music festival, and SummerStage Anywhere, its virtual festival, will remain free and available to all.
In addition to the musical performances, a diverse group of celebrities, many of whom are New Yorkers, will share their stories about New York Cityand the City Parks Foundation. More information on this year's SummerStage Jubilee can be found at http://summerstagejubilee.org/.