You know summer's just around the corner in New York when deciding what to eat for lunch becomes your toughest decision all day. Food trucks are all the rage, and for good reason, since they take all the work out of finding good food around the city. With such a wide variety of vendors popping up at events around NYC, you're guaranteed a mouth-watering meal, so forget run-of-the-mill and grab some grub at one of these food truck festivals! Go early and bring friends so you can try several dishes: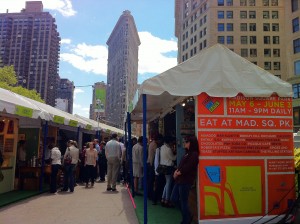 Food truck vendors at Mad. Sq. Eats, presented by UrbanSpace and the Madison Square Park Conservancy, (http://urbanspacenyc.com/mad-sq-eats/) have been serving up dishes made from local produce and fresh ingredients since early May, and there's still one more week to catch this pop-up shop before it hits the road until next year. Try new dishes created by some of NYC's most celebrated chefs as you stroll through Worth Square, located near Manhattan's iconic Madison Square Park.
Feeling hungry and adventurous, but not sure what to eat? Sample one of ilili's contemporary Lebanese and Mediterranean dishes, or try arancini – deep fried rice balls served with various toppings – a traditional Sicilian street food from Arancini Bros. And there are plenty of sweets to go around at Mad. Sq. Eats, too: cool off with an ice cream sandwich from Melt Bakery, home to New York's first ice cream sandwich store, or grab an ice pop made with fresh, local fruits from People's Pops.
Mad. Sq. Eats is open daily from 11am-9pm until May 31, at Worth Square (located directly adjacent to Madison Square Park on the intersection of Broadway, 5th Ave. and 25th St). Here's the full list of vendors:
New:
Third Rail Coffee
Dreamscoops Ice Cream
Sunday Gravy NYC
SEOUL LEE KOREAN BAR B CUE
Eleni's New York
Mason Jar NYC
Mrs. Dorsey's Kitchen
MMM ENFES
Returning:
Arancini Bros.
ASIADOG
Bar Suzette
CALEXICO
Charlito's Cocina
Graffiti / Mehtaphor
Hong Kong Street Cart
ilili
La Sonrisa Empanadas
Macaron Parlour
Mayhem & Stout
Melt Bakery
Mexicue
Mighty Balls
Mimi and Coco NY
Momofuku Milk Bar
Nunu Chocolates
Red Hook Lobster Pound
Roberta's
Stuffed Artisan Cannoli
The Cannibal
people's pops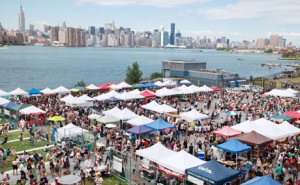 100 to 115 food truck vendors from NYC and around the world are gathering every Saturday and Sunday this summer for Smorgasburg, a Brooklyn Flea Food Market (http://www.smorgasburg.com/). Both the locations (Williamsburg and DUMBO) andthe cuisine ensure a trendy experience.
New vendors in this year's lineup include Scharf & Zoyer, famous for their noodle-kugel sandwiches, and Deji, where you can nosh on Korean pub food favorites and foie gras beignets. Looking for the ultimate indulgence? A plate of nachos at El Gato Nacho should do the trick. Satisfy your sweet tooth with peach cobbler crumb cheesecake from BITEME Cheesecake or some decadent cake truffles from CakeBites .
The Smorgasburg lineup changes throughout the season, so this one's worth checking out more than once! Here's the full list of vendors that will make an appearance this summer: http://www.smorgasburg.com/vendors.
When/Where:
Saturdays from 11am-6pm at East River State Park (Kent Ave. and N. 7 St.) on the Williamsburg waterfront;
Sundays from 11am-6pm on the DUMBO waterfront at the historic Tobacco Warehouse in Brooklyn Bridge Park.