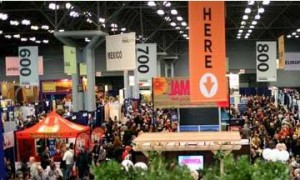 If you love to travel, this is one weekend to stay put in New York City. One of the largest travel showcases around, The New York Times Travel Show, happens Saturday (10am-6pm) and Sunday (11am-5pm) at the Javits Center in Manhattan. www.NYTTravelShow.com Exhibitors from locations around the world are eager to meet you at their booths, with many demonstrations and giveaways as well.  It's a great opportunity to ask questions about places you've always wanted to visit as well as to enjoy music, children's entertainment, food, and the arts. 655 West 34th Street. 212-216-2000.
You can view an interactive map of exhibitors here or visit www.NYTTravelShow.com for more information, New York Times Travel Show hours, exhibitors and directions to the Javits Center.
Some of the highlights of this year's show by day include:
SATURDAY, MARCH 1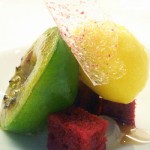 Cooking Demo about drink and foods that will help combat the challenges of travel (jet lag, overindulgence, etc.) by Celebrity Chef Candice Kumai, 11-11:30am, Taste of the World
Presentation about Medical Tourism – PROMED Costa Rica. 11:45-12 Noon, Location TBD
Demonstration by world-renowned Chef Michael Laiskonis with cuisine from Lithuania, Estonia, Latvia.  12 Noon, Global Stage.
Chinese Lion Dancers Performance – Macau Government Office – 12 Noon – 12:30pm, Asia Stage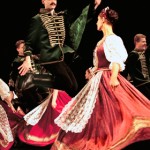 Traditional Hungarian Folk Dance — Hungarian National Tourist Office – 2pm, Location TBD
Cooking Demo by Celebrity Chef Anne Burrell ("Food Network" star and world traveler, author of "Own Your Kitchen") – 2-2:30pm, Taste of the World
Presentation on Educational Adventures (learning adventures in 150+ countries) – Road Scholar – 2:30pm, Location TBD
Traditional Mongolian Costumes and Mongolian Music with horse-headed fiddle – Selena Travel Mongolia – 3-3:30pm, Location TBD
Wine Tasting – South African Tourism – 4:15-4:45, Global Stage
SUNDAY, MARCH 2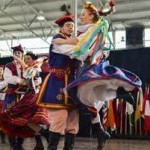 Lithuanian Folk Dance Performance by dance group "Viesulas" – Lithuania, Estonia, Latvia – 11-11:15am, Asia Stage
Presentation about Medical Tourism – PROMED Costa Rica – 11:45-12 Noon, Location TBD
Lithuanian Children's Folk Band Performance by "Spindulelis" – Lithuania, Estonia, Latvia – 1-1:15pm, Asia Stage
Traditional Hungarian Folk Dance — Hungarian National Tourist Office – 2pm, Location TBD
Presentation on Educational Adventures (learning adventures in 150+ countries) – Road Scholar – 2:30pm, Location TBD
Lithuanian Children's Chorus "Varpelis" – Lithuania, Estonia, Latvia – 4-4:15pm, Europe Stage
BOTH DAYS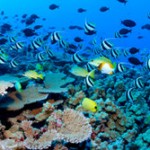 Silent Auction – Caribbean Hotel & Tourism Association Education Foundation – Booth 121
Leprechaun Spokesperson — Journey through Ireland — Booth 368
Caribbean Steel Pan Players & Rum Tasting – St. Kitts and Nevis - Booth 321
Expert Talks on World Travel– Yampu Tours – Booth 545
Garret McNamara (world record holder for surfing the largest wave in Nazare, Portugal) Discusses Surfing in Portugal– Portugal on Tour — Both 676