In New York City we watch the Ball Drop in Times Square, sing Auld Lang Syne and party until the wee hours on New Year's Eve to signal that the year is over. In normal years, we also have a chance to watch the fireworks, cheer on the Midnight Run and enjoy live music in Central Park.
Other countries think differently with a variety of traditions to say goodbye to the past and ensure a good year ahead.
Japan
Japan is very serious about celebrating with religion and food.Rather than heading to Shibuya Crossing for a Times Square-like experience on New Year's Eve, many Japanese observe a tradition of Hatsumōde, the first Shinto shrine visit of the New Year. At the shrine, a talisman with the previous year's zodiac sign is burned in a ritual called Otakiage and replaced with the zodiac animal of good fortune for the year ahead.
Listening to Joya-no-Kane, 108 rings of the great bell at a Buddhist temple, is another New Year's tradition with each peal "ringing away" an evil passion or desire for a clean start to the year. The celebration continues with slurping bowls of toshikoshi soba or "the end-of-the-year-and-into-the-next" soba noodles, symbolizing the bridge between the "old year" and "new year." In New York City, you can experience the ringing of the bells at the New York Buddhist Church on the Upper West Side.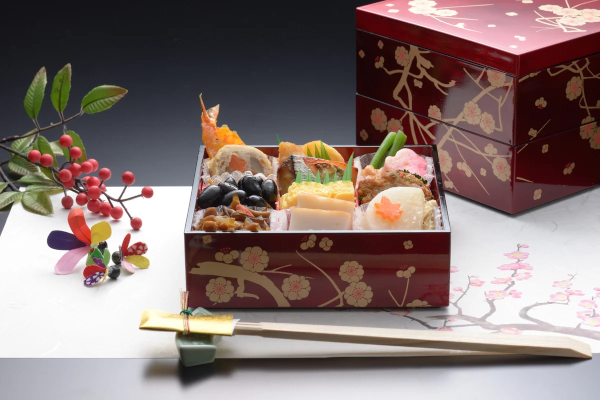 The New Year in Japan is also celebrated with foods associated with good luck, good harvest and other positive outcomes. A traditional Osechi Ryori meal is served in a special jubako box. Consisting of multiple colorful dishes, the meal is eaten with special chopsticks rounded on both ends, one end for human use and the other for the gods. Each dish represents a symbol or wish for the coming year. Dishes include kazunoko, pacific herring roe marinated in salt (abundant harvest and fertility); kuromame, sweet black soybeans (hard work and good health); tazukuri, dried young anchovies (a strong and abundant crop) and kuri-kinton, candied chestnut with sweet potatoes (economic fortune and wealth). Manhattan's MIFUNE turns Japanese for New Year's with a 21-course Osechi Box Set. The beautifully composed takeout meal includes like the likes of Miyzazki Wagyu A5 Rank , lobster and uni.
In the Miyagi prefecture in the Tohoku region, the largest Dontosai Festival is held at the Osaki Hachiman Shrine in Sendai City where people come to burn their previous year's New Year's decorations in a massive bonfire. Seen as a purification ritual to get rid of bad luck as well as a way to pray for health and good fortune, the bonfire is accompanied by hadaka-mairi, a pilgrimage of men dressed only in white boxers, loincloths, a straw belt and straw shoes who ring a hand bell to herald the coming year while cleansing themselves of the previous year.
South American and European countries seem to have the most fun (or insanity) on New Year's Eve.
Peru
To ensure good luck and positive energy, Peruvians don yellow clothing, wearing the color of Peruvian positivity. For double assurance, many put on yellow underwear and even start their New Year's Eve celebration wearing their underwear inside out. After the clock strikes midnight, they turn it back to the right side, symbolizing changes to be made in the coming year.
Colombia
Then there are the Colombians who take an empty suitcase on New Year's Eve and run around the block as quickly as possible to ensure a year full of travel, an admirable aspiration especially this year.
Mexico
The way to say goodbye to the old year in Mexico differs by area. In some regions, a doll made of old rags is set on fire to symbolize the burning of the previous year's bad memories or deeds. In Veracruz, popular music floods the streets and children celebrate El Viejo, disguising themselves as elders as a representation of the end of the previous year. In Oaxaca, breaking crockery as a symbol of getting rid of the old is a New Year's Eve tradition. In the heart of Jalisco, the town of Tequila fêtes the end of the year by eating 12 "lucky" grapes, one for each chime of the clock, as they do in Spain. With an appropriate Mexican twist, the town welcomes the New Year with a secret wish and a toast of tequila rather than Spanish cava. For extra good luck, locals drop a gold jewel inside their tequila glass as a harbinger of luck and abundance. Toast as they do in Spain and Mexico with festive dinner parties to go from New York City restaurants Boqueria, Socarrat and Mole.
Iceland
Community bonfires are a New Year's Eve event throughout Iceland. These massive fires attract friends and family to reflect on the year past and spread well wishes for the one ahead. Locals sing traditional songs about elves, the secret creatures of Icelandic lore, before scurrying indoors at 10:30pm to watch Skaupið, a satirical TV show shown only on NYE. No one in Iceland would dream of missing it!
Denmark
In Denmark people smash plates against their friends' and relatives' front doors on New Year's Eve.  They believe that the person with the largest pile of broken plates will have the most luck.
Greece
Ironically, the Greeks don't smash plates on New Year's as they often do in the Plaka in Athens. Rather, homemakers hang pomegranates outside their front door and smash them. The number of seeds that fall determines your fate for the New Year. The bigger the pile, the better your luck will be.
Russia
The Japanese definitely don't have a lock on celebrating NYE with a major food feast. On December 31, Russians party at home with an elaborate food spread with mandarins, Russian salad (Olivier salad) and the wonderfully named "Herring under the Fur Coat" salad (shuba). And, because there are nine time zones in Russia, New Year is celebrated nine times starting from Vladivostok from East to West. For a local taste of the Olivier and Shuba salads, Russian Samovar in Manhattan's Theater District offers a "Bourgeois Holiday Banquet" to go.