The city kicks off its October event schedule with three programs for good causes: peace, music, and parks.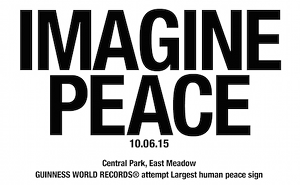 On October 6, Yoko Ono, founder of Imagine Peace, invites you to help her create the world's largest human peace sign in honor of John Lennon's birthday on October 9 (he would have been 75). Near Strawberry Fields in Central Park, the attempt at the Guinness world record will happen in the East Meadow. Expect anywhere from 6000 to 10,000 people and wear your best rock 'n roll colors. Be there by 12 Noon (you can register onsite, too) as the photo will be shot overhead at 12:30pm. The event is free, but donations will go to the John Lennon Education Tour Bus, a non-profit mobile Pro Audio and HD video recording facility that provides hands-on experiences for students. You can sign up online at Eventbrite.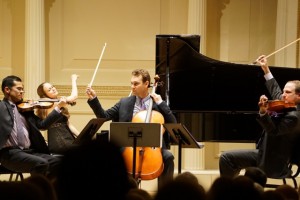 Also, on October 6, the Bulgarian Concert Evenings program in New York has its Opening Night Gala at 7:30pm at Weill Recital Hall at Carnegie Hall. Tickets are $40, $30, and $20 and support the development of young and upcoming musicians as well as fund the ongoing free concert program at the library of the Bulgarian Consulate General. This year's gala features a program of music by Wolfgang Amadeus Mozart, Dobrinka Tabakova, and Franz Schubert played on violin, viola, cello, double bass and piano.  For information and tickets, visit www.bceny.org.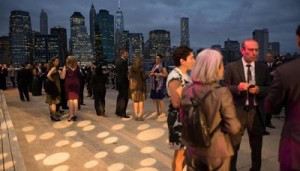 Two days later, you can show your support for the city's parks at a benefit supporting the Brooklyn Bridge Park Conservancy's miraculous transformation of the abandoned Dumbo waterfront into a beautiful park. It's a Brooklyn-style "black tie" affair taking place on Pier 2, called, not surprisingly, the Brooklyn Black Tie Ball and After Party. The October 8 event is filled with great food, dancing, and music, all with an amazing view of Manhattan's skyline and the Brooklyn Bridge. I can't think of a more wonderful way to thank these folks for all they do like bringing us the Movies with a View series, Pilates classes in the park, and Kayak Camp. The honoree at the event is former mayor Michael Bloomberg who was the driving force in the creation of the park. Cocktails and dinners are 6-9, with the After Party from 9-11. Separate tickets are required for each. Information at http://www.brooklynbridgepark.org/events/bkblacktie .