With Thanksgiving, Christmas and New Year's looming, there are more than enough great reasons to bring the family to New York City. Beyond seeing the Rockettes at Radio City Music Hall, shopping for dolls at American Girl Place, or donning ice skates to twirl around the rink at Rockefeller Center, there are many things to do that will let you explore beyond crowded Midtown.
New York City is a real toy box of activities for families. It's a showplace of the world's best: a fabulous introduction to great eats, culture and diversity and, without a doubt, fun! So get out, explore, and experience the magic of the Big Apple.
Where to Stay with Kids
Many NYC hotels are family-friendly, offering free cribs on request, high chairs, strollers and other baby-related gear. Younger ones are often free so be sure to inquire. Teens and tweens get perks, too. Specials vary by season and by week. Check out the hotel's website for the best prices.
The Gansevoort Hotel (18 Ninth Ave; 212-206-6700) in the trendy Meatpacking District will hold special appeal for older kids. The area is super-cool with interesting boutiques and the newly reopened Pastis, a perfect place to sit and watch the city's beautiful people. The hotel itself offers all the requisite baby supplies (including cribs, diapers and bath supplies) and older kids get Sony PSPs and Nintendo Wiis to use during their stay.
With a bird's-eye view of Central Park and Columbus Circle, The Mandarin Oriental (80 Columbus Circle; 212-805-8800), welcomes kids with an age-appropriate gift and keeps them busy with children's DVDs, crayons and coloring books. It's also well situated at the Time Warner Center with its many shops, restaurants, and wonderful holiday decorations. And you're close to Central Park for an easy stroll to the Christmas Market or even a carriage ride inside the park.
Eventi, a Kimpton Hotel (851 Sixth Ave; 212-64-4567) caters to the junior set with the Tween Trap, complimentary rentals of a range of gadgets including Instagram printers, iPad Minis, PlayStation Vita, Beats Pill Portable Bluetooth speakers, Beat by Dre headphones and night-vision goggles. It's also a dream location if you're heading to an event at Madison Square Garden.
In the quieter Flatiron neighborhood, the boutique Giraffe Hotel (365 Park Avenue South; 212-685-7700) entertains kids with its selfie-inspiring giraffe sculpture on the roof, kids' menus and large rooms. To make sure you soak up some of the city's outdoor pleasures, Madison Square Park is a few minutes' walk away with an expansive playground, dog run, and the original Shake Shack.
Where to Eat with Kids
Food is a key part of any trip to the Big Apple. Where else can you try dishes from so many countries?  Skip the fast-food or fast-casual chains that you can find anywhere and visit the one-offs that make NYC so special.
Coal-oven pizza was invented here, and Brooklyn offers some of the best. Try Totonno's (1524 Neptune Ave, Brooklyn; 718-372-0606) in Coney Island after a walk along the boardwalk. Totonno's knows just a little bit about pizza – it was founded in 1924. Or if you're spending the day shopping or touring Little Italy, opt for a tomato pie or a clam pie at Manhattan's oldest pizzeria, Lombardi's (32 Spring Street, Manhattan; 212-941-7994) dating from 1905.
Chinese dim sum is also a kid-pleaser. Did you know that NYC has three Chinatowns? In Flushing, Queens, join the crowd at Joe's Shanghai (136-21 37th Ave, Flushing; 718-539-3838) for their rich soup dumplings, or in Manhattan go piece-by-piece at Jin Fong (20 Elizabeth St, 212-964-5256), where servers wheel a parade of dumpling carts to your table (hint: get there early to avoid the long lines). For the more adventurous, head to Brooklyn for a veritable Chinese feast of small plates at East Harbor Seafood Palace (714 65th St., Brooklyn, 718-765-0098).
BBQ lets the kids eat with their fingers. Blue Smoke (116 East 27th St; 212-447-7733) is a great introduction with specially designed children's portions and meals. If you're in the middle of Times Square, Virgil's is your go-to for kid-friendly BBQ with special menus and BBQ tastes from all around the country.  (152 West 44th Street, Manhattan, 212-921-9494). And while you're in the area, be sure to visit the TKTS booth at West 47th Street for the chance to score discount tickets to family-friendly shows like Frozen, Aladdin, Harry Potter and Wicked
For dessert, a touristy "must" is Serendipity 3 (225 East 60th St, 212-838-3531), famous for its frozen hot chocolate, made with more than 30 kinds of cocoa. The concept makes no intuitive sense but it works, and it's delicious. 16 Handles, a self-service frozen yogurt emporium, is a favorite among families, too, with creative toppings like mochi, Fruity Pebbles cereal, and fresh fruit.  There are numerous locations around the city.
What to Do with Kids
It's a good idea to get an overview of the city to get your bearings, and you can do it for "free" by water. Splurge on a taxi downtown to the famous Staten Island Ferry. It costs nothing to grab a seat and see the skyline of New York and the Statue of Liberty, all from the warm, comfortable interior of this legendary vessel. Once you reach Staten Island, just grab the next ferry back to Manhattan.
You can create a full-day educational and fun scavenger hunt for the family at the city's central gathering place, Central Park. Even if it's cold outside, you'll see throngs of local kids climbing over the park's beloved sculptures of Alice in Wonderland, the Three Bears, and Balto, so join them! Then wander through the various playgrounds to the Central Park Zoo and Children's Zoo (fee required), buy a ticket for a performance at the adorable Marionette Theater at the Swedish Cottage, or take the kids to watch the sailboat races at the pond.
From the park's Western edge, it's a short walk to the American Museum of Natural History (Central Park West at 79th St; 212-769-5100). What child doesn't like dinosaurs? But there's much more to keep the little and big ones engaged. The wildlife dioramas are classic, a fascinating mix of educational and creepy, and the Hall of Gems is always a thrill. If it's butterfly season, wear a brightly colored t-shirt to attract them to your shoulders. Be sure to venture downstairs to see the intricate holiday tree made of origami.
Head to the boroughs outside Manhattan for some more child-friendly attractions: the New York Hall of Science (47-01 111th Street, Corona; 718-699-0005) in Queens and the Bronx Zoo (2300 Southern Blvd., Bronx, 718-367-1010) are musts for curious kids.
At the New York Transit Museum (Boerum Place and Schermerhorn St, Brooklyn Heights; 718-694-1600), set in an historic 1936 Brooklyn subway station, kids can explore all manner of urban transportation from buses to subways and trolleys.
For some park time while in Brooklyn, the ever-expanding Brooklyn Bridge Park in DUMBO is a mecca for families and has terrific views of Manhattan plus a historic merry-go-round. On the other side of the river, at the tip of Manhattan, the futuristic Seaglass Carousel in Battery Park is a crowd-pleaser for all ages.
How to Get around with Children
The city is designed for walking. Most of the streets in Manhattan are laid out in a grid, so you can find your way around pretty easily. Wear comfortable shoes and bring a warm coat, gloves and a hat – you'll be all set.
The outer boroughs are connected by far-reaching subway lines that run all day long. If you get lost, that's half the fun. Don't be shy about asking a New Yorker for help; rumors to the contrary, people in New York City are super helpful and love showing off their city.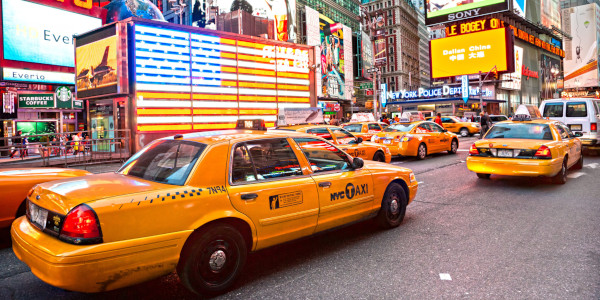 If the kids are getting tired, there are lots of taxis and ride services (Uber, Lyft, Via) to bring you back to your hotel. Download the Arro, Uber, Lyft and Via apps to your phone for easy summoning.
If you're traveling with kids, suitcases and, perhaps, a guidebook in hand, get in the queue at the airport for a yellow taxi. From JFK, there's a flat fee of $52 to New York City plus tolls. Surcharges apply depending on the time of day. A taxi from LaGuardia Airport (LGA) and Newark Liberty International Airport (EWR) will cost upwards from $35 or $55, respectively, plus tolls and surcharges depending on your final destination. A new Lyft partnership from LaGuardia has reduced the fee somewhat.  Ubers and other ride shares also service the airports.
Something Special
It helps to see the city from higher up, especially if you're a little one. The wondrous High Line, a walking park built in an abandoned elevated train track, traces a route along the city's Hudson River, with plantings, food carts and art. If you're cold, you can stop off by the new Hudson River Yards and refresh at the kiosks and counters at Mercado Little Spain or duck into the shopping mall.  For another vista, walk across the Brooklyn Bridge for an astonishing view of downtown Manhattan. And then walk back – you'll get an entirely different impression of the city.
Are your children budding chefs? At Cool Mess (137 East 62nd St; 212-355-9834) on the Upper East Side, you can don aprons and make your own ice cream.
There's nowhere better than Manhattan to give your kids an introduction to theater, TV and the movies. Are they wannabe actors? Take the kids backstage with Take Walks at the New Amsterdam Theater, home to Disney productions such as The Lion King, The Little Mermaid and Mary Poppins. Here they can try on costumes and play with the actual props from some of these shows.
Older kids will love the Central Park TV and Movies Sites walking tour. They'll recognize the Literary Walk from Glee, The Smurfs and Trainwreck; the Boathouse from Home Alone 2; the Plaza Hotel from Home Alone and the Bethesda Fountain from Stuart Little. And there are lots of photo ops to make their friends jealous.