Harlem is the spot for dining and jazz.  The Lenox Lounge may be changing, the Red Rooster and Ginny's Supper Club are a bit sceney, and Minton's is a pricy evening, but there's another spot that conveys the real spirit of Harlem's jazz tradition at a fraction of the cost.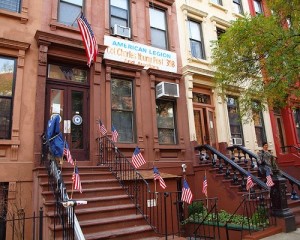 American Legion Post 398 on 248 West 132nd Street was organized in 1922 by Colonel Charles Young with a mission to honor and serve veterans, their families and their community. With 200 hundred members today, it still actively attends to its mission of service. "The Post," as it's known, is run by its members as perhaps the most authentic jazz/blues bar in Harlem, with live jazz on Wednesday, Thursday, and Sunday and a DJ on Tuesday, Friday, and Saturday.
You'll "hear" your way to the brownstone with the music. Head downstairs, ignore the sign that says "Only Members and their Guests Allowed," and enter this special place. There's no cover charge, but you must sign the guest book.
Sunday night is the best night for live jazz. You might hear the amazing sounds of the Harlem Groove Band, including a tenor sax that will blow your mind and an electric guitarist who really smokes. Surprising guests may be top musicians from Europe or local singers, all great – and loud, of course.
It's cash only, and the drinks are cheap and strong.  Airline mini bottles served neat, beer or mini wine bottles are the way to go. It's also a soul food joint. $10 gets you a meal cooked up in the kitchen in the back. I recommend the "fish fry" if it's available: a big piece of whiting plated with a couple of sides like greens and mac & cheese. There's a feeling of community in these tight quarters. Old timers from the neighborhood and actual veterans mingle with "new friends" who have made the trek from Brooklyn and downtown Manhattan to hear the jam. Everyone's there for the same reason, to have a good time, together.
Definitely meet Commander Eddie Randy Dupree, the host and spirit of the place; the veterans who keep the place humming; and Karen the bartender. You're so close to the band that you'll be able to chat them up as well.
48 West 132nd Street, between Adam Clayton Powell Jr. Blvd. (7th Ave.) and Frederick Douglass Blvd. (8th Ave.), 212-283-9701. http://colchasyoungharlempost398.com/