Are you ready for the best foodie event in Manhattan? It's not until March 25, but tickets are now on sale.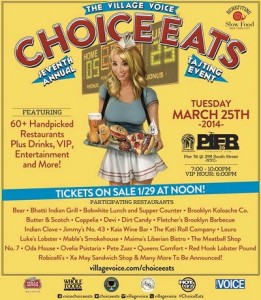 The Village Voice's "Choice Eats" always has about 60 restaurants to sample treats from, from 35 or more different ethnicities. To date, 26 restaurants have voiced their commitment including Bear, Bhatti Indian Grill, Bobwhite Lunch and Supper Counter, Brooklyn Koloache (love those savory and sweet pastries), Butter & Scotch, Coppelia, Devi, Dirt Candy (vegetarians rejoice), Fletcher's Brooklyn Barbecue, Indian Clove, Jimmy's No. 43, Kaia Wine Bar, Louro, Luke's Lobster, Mables Smokehouse, Maima's Liberian Bistro, No. 7 Oda House, Ovelia Psistaria, Pete Zaaz, Queens Comfort, Red Hook Lobster Pound (is this your favorite or is it Luke's?), Robicelli's, The Kati Roll Company, The Meatball Shop, Xe Mayu Sandwich Shop. Back by popular demand, "Choice Eats" will offer all ticketholders an array of dessert offerings in the "Choice Sweets" section of the event. March 25. www.villagevoice.com/choiceeats.
Since this is the seventh event, you know it's going to be a lucky one! The location this year is new (not the 69th Armory as in the past): Basketball City at Pier 36 in Lower Manhattan (299 South Street). Three hours of eating from 7-10pm, with a VIP-only hour from 6-7pm. Tickets are $60 for General Admission, or $85 with the VIP sign-up.
New this year, "Choice Eats" will be accepting volunteers to assist The Village Voice team on-site at the event. In addition, to free entry to "Choice Eats," this is a pretty cool way to get a free general admission ticket to The Village Voice's Third annual "Choice Streets" Food Truck Tasting Event to be held later this year in May. To apply, you must be 21 years or older and
fill out this application
, http://bit.ly/CEvolunteer.
Two other foodie events happening in NYC this week:
Held in Red Hook (Brooklyn) at "heated" Pier 12, the Taste of the NFL is holding its annual party, with lots of celebrity chefs fêting their favorite NFL team, each with a special dish. This year's event – no surprise – is being held the night before the Super Bowl. As a nod to the Super Bowl's straggling both New York and New Jersey, there will also be a special appearance this year from cast members of TLC's "Cake Boss." Proceeds go to local food banks in NFL cities. 72 Bowne Street, Brooklyn.
PepsiCo will throw a three-day music and food celebration in Manhattan's Bryant Park, starting Thursday, January 30 and ending Saturday, February 1. Free public events are scheduled from 2-6pm including performances from Broadway musicals. Nightly entertainment includes free ticketed concerts in the dome at 8pm. Food stations will be provided by local celebrity chefs David Burke (David Burke Townhouse, David Burke Kitchen, Fishtail by David Burke), Marc Forgione (Restaurant Marc Forgione) and Michael Psilakis (Kefi, Fishtag). 40th-42nd streets, between Fifth and Sixth avenues, Manhattan. Check out the video here. http://www.youtube.com/watch?v=1oJF-ipZ33c