Newport, Rhode Island looms large in the lore of 19th-century society. It was where the wealthy vacationed, where they built their summer "cottages," and where they entertained on a grand scale. The mansions lining Bellevue Avenue offer a taste of the Gilded Age, and they welcome you year-round to explore and imagine life as it was in what has been dubbed "America's First Resort."
For those of us who live more modestly, Newport (https://www.discovernewport.org/) holds much appeal beyond this fantasy life of the rich and famous of the 1880s. It's also the playground of the sailing and yachting set and known for the America's Cup.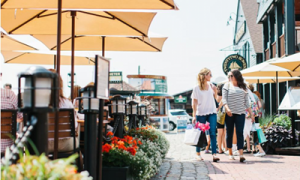 Newport is a walkable town with quaint New England shops, beautiful flowers, stunning buildings, and oodles and oodles of history. It also remains a beacon to what is possible: having a port that early on rivaled that of New York and Boston, and serving as a haven for religious freedom from as early as 1639. And if the fresh ocean air doesn't capture you with its salty perfume, the friendliness of the locals certainly will. Newport will always be a place to visit again and again.
I have returned to Newport many times, in different seasons, and have had a wonderfully enriching getaway each visit. The regatta and racing season may not begin until June, but spring is equally delightful in this elegant seaside town. Walking past the historic and architecturally significant International Tennis Hall of Fame (https://www.tennisfame.com/) or stopping at the quirky Audrain Automobile Museum (http://audrainautomuseum.org/) for more dreaming and drooling — this all add to the appeal of the city.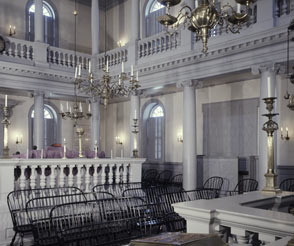 Newport is the home of the oldest synagogue in the United States. The 1763 Touro Synagogue welcomes visitors on a guided tour where you learn about the beginnings of the Sephardic community in the United States and George Washington's inspirational letter to the Jews of Newport. The letter, written in 1790, is read annually to the congregation and visitors. The synagogue sits on Newport's Historic Hill with the neighboring Seventh Day Baptist Meeting House dating from 1730 and the 1835 Levi Gale House.
Head back towards Bellevue Avenue for a look at the sprawling campus of Salve Regina College with its magnificent Gilded Age buildings and climb along the paths and rocks of the Cliff Walk for a privileged and intimate look at the back yards of the many mansions overlooking the Atlantic Ocean. The Preservation Society of Newport (http://www.newportmansions.org/) will provide a list of the openings of the various cottages so you can also explore indoors, generally on a self-guided audio tour. The Breakers, Rosecliff, Château sur Mer, The Elms and Marble House are the only ones currently open, but all will be allowing tours by the end of May. (Insider's note: the gift shops at the cottages offer some amazing "period" souvenirs that you may decide to keep for yourselves.)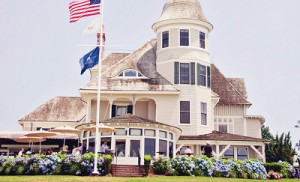 Driving along historic Ocean Drive, one of the country's most distinguished and beautiful residential roads, leads you to the premier destination for a Newport getaway, The Castle Hill Inn (www.castlehillinn.com/). Built in 1874 as a summer house, the landmark Victorian mansion delivers an experience that conjures up a stay among the society folks of the Gilded Age. With its sloping lawn and Adirondack chairs strategically placed for optimum bay breezes as well as views of neighboring Rose Island and Pell Bridge, Castle Hill Inn regally welcomes you for a classy, peaceful stay. The resort itself has many areas: the main inn rooms and their adjacent Harbor House and chalet accommodations; a main dining room, private dining area; two bars; a spa; a living room; and a line-up of individual beach cottages and houses where you walk across the sand to arrive at your own private house with fireplace and indoor and outdoor sitting areas.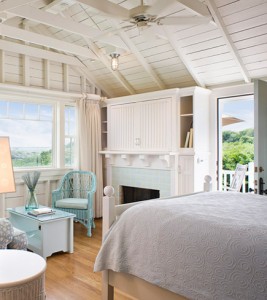 For beach lovers, no matter the season, the Atlantic Ocean-facing cottages should be your choice of accommodation. The morning air and unblemished sand invite you to stroll along the shore while you search for sea glass that frequently washes up here. It's a short drive up the hill to the main house where breakfast, lunch and dinner are served in the oceanview dining room, and where a reservation for Sunday's jazz brunch is de rigueur. If you would prefer to stay in the main inn, the bi-level turret suite with its sweeping views of Narragansett Bay is pure Victorian bliss.
Last spring, I participated in the resort's cooking school, let by Executive Chef Lou Rossi and Executive Pasty Chef Matthew Petersen. In the Inn's lawn kitchen which serves guests outdoors during the warmer months, we learned how to make exquisite bakery items. My favorite was twirling the dough around my finger to create a somewhat round bagel. Others were more adept than I, but that was part of the fun. I had never tried anything like that before, and I loved it. I also loved making savory quiches and fruity crepes along with croissants with their many layers and pounds of butter. As we got more inventive, we made mini versions that replicated the larger croissants, just to see if we could. After a day of rolling, pounding and filling doughy, carb-filled creations, it was important to celebrate our successes with a Champagne toast and some wondrous cocktails. Beverage Director Anthony Boi showed us a number of variations on the Bloody Mary, to perfectly complement our brunch menu. The Inn's specialty, and a riff on a New England standby, uses tomato-flavored vodka and adds clam juice to add a bit of salt-air intrigue.
Castle Hill Inn  is a shingle-style Relais & Châteaux situated on 40 acres just at the entrance of Narragansett Bay. The original 19th-century Agassiz Mansion has seven guest rooms and suites with stunning views. Outside of the main mansion, you'll find 26 private, waterfront accommodations in the Harbor House, Chalet, Beach Houses and Beach Cottages. Activities at the inn vary by season, but there are always outdoor exploring, wellness and cooking weekends, spa treatments, champagne brunches, stargazing, bonfires, and beachcombing. The resort has hosted many famous guests over its long history, with perhaps the most celebrated being Grace Kelly who stayed while filming High Society in 1956. The resort's secluded seaside cove bears her name. 590 Ocean Drive, Newport, RI 02840, 401-849-3800, or 888-466-1355. (http://www.castlehillinn.com/)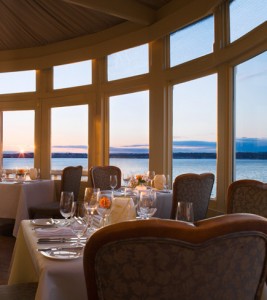 Executive Chef Lou oversees the curved oceanview dining room and crafts a changing menu of farm (or sea) to table international and regional choices. The Inn's Sunday jazz brunch is popular among locals as well as guests and should be booked well in advance. Don't miss the decadent lobster hash topped with poached eggs as well as any of the baked goods from Pasty Chef Petersen. In addition to offering the perfected Bloody Mary, the bar features a selection of more than 800 wines, acclaimed by
Wine Spectator
with the "Best of Award of Excellence" for the past 10 years.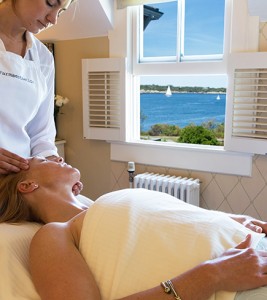 To end winter, treat yourself to a "Retreat to Romance" weekend, filled with the indulgence of a couple's massage at the Spa and Farmaesthetics Fine Herbal Skincare products along with the healthfulness of farm-to-table dining. Stay for two nights and toast the vernal equinox with a bottle of Champagne in your room adorned with flowers. The Inn's decadently refined Afternoon Tea adds to the romance and rejuvenation.
Families aren't forgotten either. Castle Hill's popular Easter Weekend kicks off on Saturday morning April 15 with the annual Easter Egg Hunt on The Lawn and throughout the gardens. Proceeds from this event benefit the Child & Family of Newport County fund. Brunch on Easter Sunday celebrates the bounty of spring in the hotel's oceanview dining room.  For reservations, call 401-840-3800.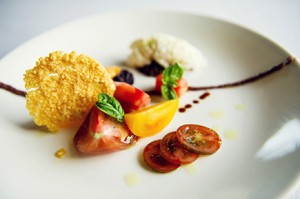 I highly recommend the springtime Castle Hill Cooking Class which reprises this year from May 5-7. Chef Lou Rossi and Pastry Chef Matthew Petersen will again lead guests through a two days of culinary craftsmanship. Also part of this year's Cooking Class, wine education sessions will be overseen by Beverage Director Anthony Boi. The theme may be different from last year's brunch focus, but it's sure to fill your head as well as your stomach with delicious treats. Be prepared to get your hands dirty and learn the secrets of great culinary cuisine. For reservations, dial 888-466-1355.  http://castlehillinn.com/about-castle-hill-inn/social-datebook/
More Events
If you can tear yourself away from the calm and indulgent setting of Castle Hill Inn, Newport beckons with a lively dining scene.  From March 27-April 7, it's Newport's Spring Restaurant Week https://www.discovernewport.org/newport-restaurant-week/), a great time to sample local dining at great prices. More than 50 restaurants will be offering a three-course prix fixe lunch for $16 or a three-course prix fixe dinner for only $35.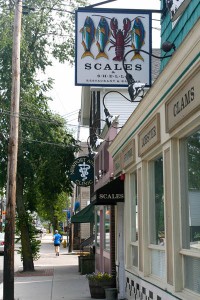 Two of my favorites are among those participating this year. The bi-level Midtown Oyster Bar (http://www.midtownoyster.com/) is always hopping with its sailing crowd (even in the off-season) and live music at the bar. The crudos, ceviches and oysters from the raw bar are top-notch. Scales and Shells Restaurant and Raw Bar (http://www.scalesandshells.com/) just down the street is another Newport favorite, an all-seafood experience in a comfortable setting. Be sure to order their New England clambake – there's nothing like a grilled New England lobster, except perhaps a steamed or hot boiled one. The restaurant has an extensive oyster selection that changes daily and great artisanal beers.
Grab a yellow daffodil pin and join the locals and visitors who celebrate the end of winter and the birth of spring with The Newport Daffodil Days Festival (http://daffodillion.com/daffydays/) from April 15-23. This 10-day event coincides with the emergence of half a million daffodils throughout the city. A calendar of events shows parades, bike tours to view daffodil fields, garden visits and a back-in-time lawn party at the historic Bellevue House.