For those of us who don't feel like scraping our fingers raw, grating potatoes for potato latkes, or cooking up a brisket as big as a telephone book, there are wonderful restaurants in New York City that take the traditional Chanukah feast and turn it deliciously on its head.  Here are some wonderful ideas for a family gathering to celebrate the Festival of Lights. You can go to one for each of the eight nights (well, actually nine, if you include the last day), December 20-28, and then repeat your favorites.  I've already made my reservations at Toloache 82 for the night I return to the city.
Two words: Free Latkes!  At this Manhattan favorite for upscale comfort and diner food, complimentary potato pancakes will be served throughout the eight days of Chanukah, with your choice of sour cream or applesauce.  At both West-side locations, you will find absolutely scrumptious Jewish-American classic dishes.  From the Smoked Fish platter of Nova Scotia Salmon and Sturgeon to the hand-carved Hot Pastrami, you'll find plenty of choices for a holiday feast.  The full menu listings can be found at: www.brooklyndiner.com.
Locations: 212 W 57th Street (between Broadway and 7th Avenue) & 155 W 43rd Street (between Broadway and 6th Avenue)
Phone: 57th Street- 212.977.1957 & 43rd Street- 212.265.5400
Chef Julian Medina adds a spicy spin on the holiday classics with his impressive Mexican Hanukkah menu. Served at all four of his restaurant, Toloache 50, the new Toloache 82, Yerba Buena Avenue A, and Yerba Buena Perry, the special menu will be available for all eight days of Hanukkah with amazing dishes like the Latkes Trio (potato jalapeño, zucchini, and Mexican ricotta) and Tacos de Brisket, Bohemia braised tacos with tomatillo salsa options. The Pollo Marrakesh entrée paired with the Hanukkah Margarita, made with Mexican chocolate-infused Herradura Reposado and strawberries and agave nectar, are reasons alone for indulgence. To top off the entire experience, enjoy the Mexican Sufganivot dessert of donuts filled with dulce de leche. www.toloachenyc.com.
Locations & Phones:
Toloache 50, 251 W 50th Street; 212.581.1818
Toloache 82, 166 E 82nd Street; 212.861.4505
Yerba Buena Avenue A, 23 Avenue A; 212.529.2919
Yerba Buena Perry, One Perry Street; 212.620.0808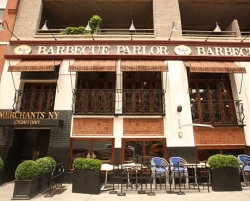 A sweet and edgy blend of brown-sugared sour cream and bourbon-spiked applesauce tops off Executive Chef Wade Burch's Sweet Potato Latkes at the new Neely's Barbecue on the Upper East Side. For the eight nights of Hanukkah, you'll get your fix of eight Sweet Potato Latkes for only $8.88. This unique take on the traditional latke transforms sweet potatoes into golden-brown, slightly crispy patties on the outside, while keeping the soft consistency we all love, on the inside. www.neelysbbqparlor.com
Location: 1125 First Avenue
Phone: 212.832.1551