For a Mexican take on Christmas dining, head to the city's most foodie-ethnic borough, Queens, for a two-day Christmas extravaganza.   Starting at 11am on December 24, MexiQ will dish up a New York-style Eggs Benedict with smoked salmon, or a Mexican-inspired Breakfast Quesadilla with scrambled eggs, pinto beans and shredded chicken, both served with a taste-awakening side of Jalapeño Goat Cheese Cornbread. Christmas Eve Happy Hour begins at 4pm and continues through 4am, featuring $5 margaritas and $3 beers.  MexiQ's Christmas Day brunch will help you recover from too much partying with their Hangover Cure, a crispy concoction of tortilla, salsa, pulled chicken and chorizo topped with two fried eggs.  www.mexiqny.com.
Location: 37-11 30th Avenue, Astoria NY
Phone: 718.626.0333
Fishtail:
A 'Feast of Seven Fishes' dining experience can be had at this Upper East Side seafood standout.  The bi-level eatery will host a $75/person six-course dinner on Christmas Eve, conceived by Executive Chef David Burke.  Courses of Parmesan Crusted Flounder with wild mushrooms and champagne butter and traditional West Coast Oysters are a few highlights.  www.fishtaildb.com
Location: 135 E 62nd Street (Lexington Avenue)
Phone: 212.754.1300
More of Chef Burke's inspirations will be available at the David Burke Townhouse, an elegant and whimsical space, just one block south of Fishtail.  On Christmas Eve, Executive Chef Carmine DiGiovanni will offer a mix of holiday and non-holiday favorites such as Holiday Goose and Diver Scallops, finished with a holiday-appropriate Eggnog Cream Brûlée with grilled pear and spice shortbread.  This one-night prix fixe dinner is offered for $85 per person.  www.davidburketownhouse.com.
Location: 133 E 61st Street (Lexington Avenue)
Phone: 212.813.2121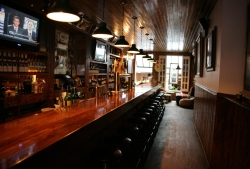 Jones Wood Foundry:
Do you have a larger party but don't feel like holding it at your home?  Check out a communal table at Jones Wood Foundry, a Brit-inspired gastro pub and restaurant on the Upper East Side with a back dining room that seats groups of six or more.  Through December 23, the restaurant is offering a three-course menu of Christmas favorites including such dishes as smoked salmon and country pate, followed by roasted turkey and beef sirloin.  The Foundry's signature (and infamous) Christmas pudding, laced with Guinness, brandy and sherry, is marinated for a few days and then steamed to bring out the flavors.  Mince pies are also a dessert specialty.  www.joneswoodfoundry.com.
Location: 401 E. 76th Street
Phone: 212.249.2700
The Monkey Bar will be offering the best of its a la carte options for both Christmas Eve dinner and Christmas brunch.  Try the lemon-y peekytoe crab with grapefruit or the cured Hamachi for seafood starters, or any of the pasta entrées such as the smoked fettuccine with uni and Hackleback caviar.  The night doesn't end after dinner, though, as the bar will stay open until 2am serving up its extensive cocktail list and other beverage offerings.  www.monkeybarnewyork.com
Location: 60 E 54th Street (between Madison and Park)
Phone: 212. 288.1010