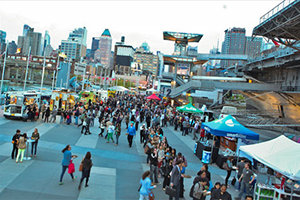 Food truck lovers, this is the event you've been waiting for. The Village Voice's Third Annual "Choice Streets" Food Truck Tasting Event on Wednesday, May 7. (Rain date: May 9). A gathering of 20 ore more food trucks against the gorgeous backdrop of the Hudson River and the Intrepid, the event takes place at Pier 86 (W. 46th St & 12th Ave), Manhattan, from 7-11pm. Early entry is recommended as lines form quickly. Trucks doling out their specialties at this event include some not usually found roaming around Manhattan. You can sample goodies from around the world, from pizza to kimchi tacos, at trucks including Taipan Fusion Express, Toum, Big D's Grub Truck, Comme Ci Comme Ca, Coolhaus Ice Cream Sandwiches, DUB Pies, Hibachi Heaven, Korilla BBQ, Love Mamak & Lucky Yim, Luke's Lobster, Luzzo's La Pizza Napoletana, Mike N' Willie's, Moo Shu Grill, Nuchas, Solber Pupusas, Souvlaki GR, and Sweet Chili. You must be 21 or older to attend. Tickets can be purchased at http://ticketf.ly/1jQC0MA.
"Choice Streets" will not only feed you, but it will also entertain you with sets by popular NYC-based DJ Andy Rourke of The Smiths, the alt-rock band that materialized from the British independent music scene in the 1980s. Since The Smiths parted ways in 1987, Andy Rourke has played and recorded with some of music's greatest performers including Sinead O'Connor, Morrissey, The Pretenders, and Badly Drawn Boy, and has DJ'ed his way around the city.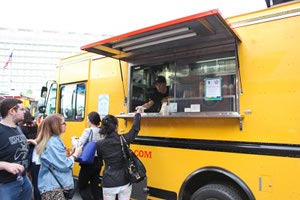 Differing from the previous food truck events, this year's "Choice Streets" will feature multiple ticket options. All ticketholders will be offered complimentary food tasting, unlimited beverages, complimentary access to the Intrepid Museum (a $22 value on its own) and entertainment throughout the night. The Early Entry ticket ($60) will allow guests entry into the event at 7:30pm, a full half hour earlier than the event's door time. The General Admission ticket ($50) allows entry at 8pm.
Also new this year is a passport system so that everyone can try as many of the food truck options as possible. Upon arrival, all guests will receive a passport card attached to a lanyard that will entitle them to one (1) sample from each truck.  Alcoholic beverages are unlimited to all.
The Village Voice will once again partner with the non-profit organization Slow Food NYC for the event and plans to donate a portion of ticket sales from Choice Streets. Sponsors include: Shock Top, Barefoot Wine & Bubbly, Verizon FIOS, New York Botanical Gardens, Southern Wines and Spirits, Four Roses Bourbon, Ste Michelle Wine Estates, American Harvest Vodka, Tito's Handmade Vodka, Green Mountain Energy and Frames.
For more details and to purchase tickets, visit http://villagevoice.com/choicestreets.