If you're as sick of eating turkey and pumpkin pie as I am, it's time to shift gears and try out some of the other special food experiences being offered in New York City this month.  Of late, I've found Italian food to be increasing in appeal with its various regions offering distinct tastes and foods.  It's a great time to explore the various wines of the country as well as the olive oils, vegetables, salumi, and pastas that we all love.  This month's focus is on Umbria, the part of Italy that is located in the center of the country.  Umbria encompasses the well-known villages of Perugia and Assisi, and is home to the wonderful Sagrantino di Montefalco vineyards.  Typical foods from the area are truffles, lentils, and grassy olive oils.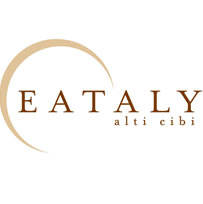 Eataly in New York City invites us to enjoy an immersive culinary experience that encompasses Umbria's wines, cheeses,  cooking schools, cuisine, and, of course, food shopping.  All events are scheduled at their all-things-Italy emporium at 23rd Street, 200 5th Avenue, near Madison Square Park.  Mark these events down for a "long" weekend of Italian treats, starting December 6.  www.eataly.com
You can finish your experience with a wonderful espresso at Caffè Vergnano, or more wine or beer at Caffè Lavazza, or head to the roof of Eataly to the always-exciting Birreria, serving an array of cask ales that are brewed onsite, bottled beers from around the world, and Italian wines, plus a full menu of small plates (salumi and cheese) or larger choices, veggies (contorni) and desserts, if you're still hungry. Eataly-Birreria Rooftop Beer Garden Menu
Thank you, Eataly, for putting the turkey and stuffing behind us!
Thursday, December 6, 6:30 -8pm
Chef's Kitchen: Food and Wines of Umbria – tickets on sale now
La Scuola Grande at Eataly – entrance on 23rd Street
Price: $60.  Tickets are available at www.regonline.com/Register
Menu: Crostini di Lenticchie (Lentil Crostini), Strangozzi con Burro al Tartufo (Strangozzi Pasta with Truffle Butter), Torta Umbra all'Olio d'Oliva and Gelato (Olive Oil Cake and Gelato)
Friday, December 7, 6-8pm
Tasting: Drinking the Wines of Umbria – FREE
Eataly Vino - Entrance on 23rd Street
Free event
Wines to be poured: Cantina Tudernum, Tenuta Rocca di Fabbri, Terre Margaritelli
Saturday, December 8, 12 Noon – 8pm
Eccellenze Tasting in La Piazza (regional wine and cheese pairings) – FREE, small charge for individual tastings
Eataly- 200 5th Avenue (Entrance on 23rd)
Free event (you may purchase a tasting pour of wine and regional cheese, however, at a discounted price)
Wines to be poured: Cantina Tudernum, Tenuta Rocca di Fabbri, Terre Margaritelli