Times Square isn't the only place to watch the fireworks on New Year's Eve. If you're in Brooklyn, you might want to head to Prospect Park. http://www.prospectpark.org/news-events/events/2014/12/31#new-years-eve-fireworks. Live entertainment, hot chocolate, and fireworks at Grand Army Plaza set the stage for a fun night, sponsored by the Prospect Park Alliance and Brooklyn Borough President Eric L. Adams.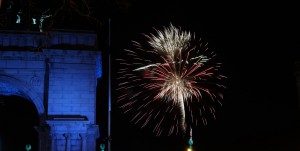 In Manhattan Cherry Hill in Central Park is the place to be…. without the crowds.  It's a fun party, with music, cider toasts, fireworks and, of course, the annual Midnight Run. This year's pre- and post-race festival takes place from 10pm until 1am with a dance party featuring a DJ and live performers at Central Park's Naumburg Bandshell. Runners and spectators alike can take a stroll down NYRR's special blue carpet and commemorate their experience at the end of the runway at the Resolution Photobooth. The pre- and post-race festival is free and open to the public, and all are welcome to view the fireworks display just south of the 72nd Street Transverse.
As 2014 comes to a close, thousands of New Yorkers and runners from across the country will dash into 2015 at the stroke of midnight at the 36th annual NYRR Midnight Run in Central Park on New Year's Eve, sponsored by New York Road Runners, www.nyrr.org. American road-racing power couple Cole Atkins, the defending champion, and Esther Erb, the 2014 USA Marathon champion representing the local New York Athletic Club team, lead the pack of runners.  A new addition to this year's race is the New Year's Resolution Bib, a back bib for runners to write what they will be running for in 2015.