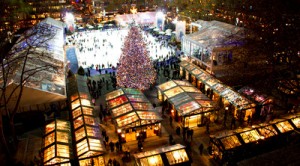 Some of the merriest Christmas shopping options can be found at the various Christmas markets throughout the city. Modeled after Christmas markets that  are the rage throughout Europe, these markets bring people together to eat, drink gluhwein (hot spiced wine), and shop for local trinkets from now through the end of the year.
After returning from visiting the Christmas markets in five European cities, I was eager to check out the ones here. Of them, my favorite is the Winter Village at Bryant Park. It may not be as large as the one by Columbus Circle or the one at Union Square but it gets my vote for its variety of attractions.  When you're tired of shopping, there are many eating outlets, a convenient restroom, and there's an ice skating rink that's FREE. (Take that, Rockefeller Center!).
Another plus: pretty much every form of transportation is nearby, from myriad subway lines to the bus down Fifth Avenue, and easy access to the trains from Grand Central Terminal.  Among my favorite shopping booths, there are the unusual ones like "Don't Chew" for all forms of melt-in-your-mouth chocolates, things made out of coins, and Brazilian home décor.  You'll also outfit yourself to the nines with everything warm with flannel pajamas, scarves, gloves, and hats galore.  I also love the fact that Sabon has a branch here so I can do some quick shopping without having to find a storefront, and that you can stare up at the Christmas tree with a backdrop of the skyscrapers on Sixth Avenue.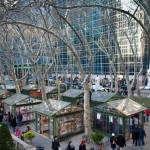 Food choices are pretty varied with Waffles and Dinges for those craving a sweet fix, or grilled cheese, arepas, and 'wichcraft sandwiches to keep you satisfied.  Although I didn't find the alcoholic gluhwein that's ubiquitous at European Christmas markets, there was a Bavarian stand with Sigmund's Pretzels and another that sold a non-alcoholic version of hot wine and hot apple cider.