Good food and good weather go hand in hand this season, as some of NYC's funkiest foodie-fests serve up their specialties throughout the city.  From Prospect Park to the Hudson River to Broadway, these May foodie events are definitely worth checking out.


Think of this as the ultimate amusement park festival of food and drink with a side of live music and perfect location- Brooklyn's Prospect Park!  On May 19 and 20, many of New York City's most celebrated chefs and restaurants will be offering up their signature specialties to hungry attendees.  With approximately 75 food vendors, 35 brewers, and 30 winemakers there will be plenty to choose from and more.  Food 'villages' will be set up throughout the park featuring a curated selection of vendors around a particular theme.  Among the highlights:  the Beer Tasting Pavilion (Oktoberfest tents and delicious brew) and the Hamageddon Experience, a Rock & Roll inspired theme of pork platters and bacon-y delights.  Although early registration tickets are sold out, Extra Mooga tickets are still available for the taking.  The Extra Mooga ticket allows for all-inclusive (yes, all-inclusive!) food and drink including beer, wine and exclusive cocktail offerings.  It also allows for VIP access to entertainment and live performances, not to mention extra goodies and easy entrance into the venue.  Extra Mooga tickets sell for $249.50/person and are available at www.googamooga.com.  Watch for additional "free" tickets to be released as well. Prospect Park, Brooklyn.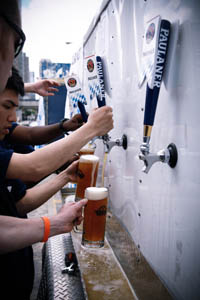 Maifest:
As a kick-off to warmer weather, World Yacht will be hosting its annual Maifest at Pier 81 on Saturday, May 12.  From Noon to 4:30pm, the pier will be transformed into a German-inspired outdoor beer garden with live entertainment and traditional German brews and bites.  Schnitzels and wursts with Paulaner and Hackerpschoor beers will set the stage for the day's events along the Hudson River.  No German festival would be complete without festive dancing, and to celebrate this spring holiday, the festival highlight is the German Maipole, a symbol of spring's arrival.  Beer Garden admission is $15/person and places can be reserved at http://www.worldyacht.com/site/maifest.aspx.  In addition, a 1-hour (optional) cruise and sailing along the Hudson will be offered for $20/person.  If you're feeling lucky, enter the raffle to win two tickets to Germany courtesy of Air Berlin.  Pier 81, W. 81st Street, Hudson River Park, Manhattan.
Wine Spectator's Grand Wine Tour hits New York City at the Marriott Marquis on Broadway.  The event is Nirvana for wine lovers with more than 200 of the world's top-rated wines and wineries in attendance, offering tastes of reds and whites, and conversation with fellow wine lovers from 7-10pm on Tuesday, May 1.  Tickets are $200/person and include a light buffet to accompany the selections. Reservations and a list of participating wineries can be found at http://www.winespectator.com/micro/show/id/grandtour-intro. 1535 Broadway, Manhattan