Do you love musicals?  Try these two series of concert performances that you may not know about.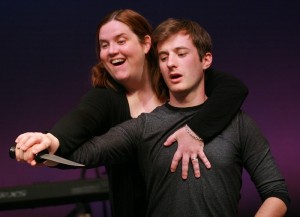 York Theatre Company's Musicals in Mufti is the only theater in New York City—and one of very few in the world—that develops and produces both new musicals and revives neglected, notable shows from the past.  I recently saw Tom Jones's wonderful Harold and Maude, a production that had never before been mounted in New York City, in the intimate York Theatre in Saint Peter's Church. Everything about the performance invited intimacy, from the pre-curtain involving and often hilarious remarks of the emcee, to the polished performances of the five actors, dressed in street clothes.  The series has been around for 40 years, but I had somehow missed it, and you definitely should take a look yourself.  There are two more productions scheduled for 2012, Colette Collage, from April 25-27, about the French playwright Colette and a show that was originally produced off-Broadway by the York in 1983.  The Tom Jones Festival will conclude with The Game of Love, another New York premiere, from May 11-13.  For those of you who are curious, mufti means "in street clothes," i.e., without the trappings associated with the original productions.  Libretti may be used as well as rehearsal time is limited.  Tickets are priced at a reasonable $39.50 apiece. www.yorktheatre.org, (212) 935-5820. Citicorp Building, entrance on East 54th Street, just east of Lexington Avenue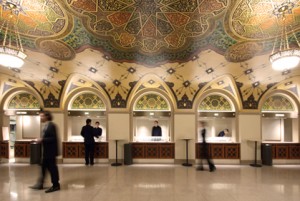 City Center's Encores! Series is another gem and one where series tickets are in high demand.  Conceived in 1994 to offer musicals in their original form, Encores' productions take place in the beautiful and recently refurbished City Center on W. 55th Street. While single tickets are often available, subscribers get the benefit of the prime orchestra and front mezzanine seats.  Each year, three musicals from America's top lyricists and composers are performed; some are wonderful, others are forgettable.  Regardless, it's a treat to hear these often rarely produced pieces.  Featured in the shows which last no more than a week are musical theater stars, a veritable Who's Who of Broadway's musical elite.  I've seen Kelli O'Hara, Patti LuPone, Donna Murphy and Lena Horne in recent times.  And watching them, many with libretto in hand (again, due to the very limited rehearsal and performance times), is a treat.  The productions are stripped down similar to Musicals in Mufti but are closer to those of a Broadway show.  This is where, in fact, the currently running Chicago got its start, and where Hair played prior to its return to Broadway as well as its run at the Delacorte Theater in Central Park.  Finian's Rainbow and Bye Bye Birdie moved from here to Broadway as well, although neither ran very long once it hit the Great White Way.  Mixed in are the occasional duds, a play like Pipe Dream or Merrily We Roll Along that never quite found its groove.  No matter, this is a don't-miss series if you're a musical theater buff.
http://www.nycitycenter.org/content/stage/enc_about.aspx 131 West 55th Street, between 6th and 7th Avenues, (212) 581-1212.