How would you like to have dinner and a movie, all in the same place?  Not to be confused with the usual Milk Duds and Diet Coke that is your go-to movie snack, we mean having a serious dinner – think a fried calamari appetizer followed by a steak sandwich and a side of French fries, with a slice of blueberry pie — while you watch your favorite flick.   This latest trend, which is rapidly taking New York City and its boroughs by storm, is both a  modern and innovative take on going to the movies.  What started as a simple concept fostered by an indie crowd of Brooklyn (and other places in the U.S.) has expanded and may soon come to all AMC theaters in Manhattan.
Here are some of the dinner-cinemas in Brooklyn and Manhattan that have seen great success and reviews: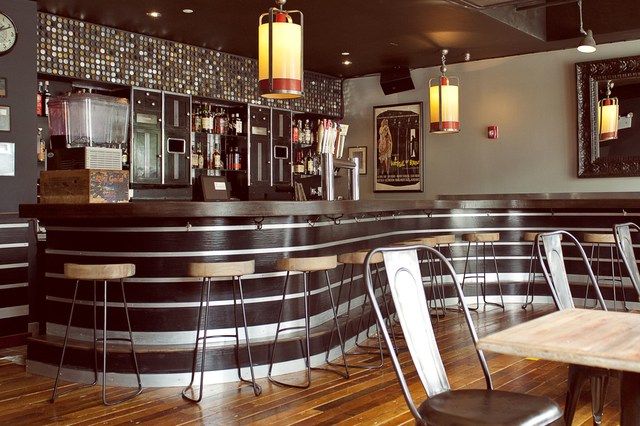 This triplex, first-run movie cinema in Williamsburg, Brooklyn features tableside food in all three of its theaters (which each feature a different film).  The dinner menu is spectacular, as is its acclaimed Brooklyn chef Saul Bolton.  A variety of small plates and seasonal selections are offered, along with  hearty entrees and a dessert selection.  No reservations are needed but it is suggested that you arrive 30-45 minutes before showtime to place your order and get a good seat.  Food specials are available, depending on the film.  Tickets are $11 for general admission, and $9 for children and seniors.  For a full menu list and movie listings go to: www.nitehawkcinema.com
Location: 136 Metropolitan Ave, Brooklyn, NY 11211. Phone: 718.384.3980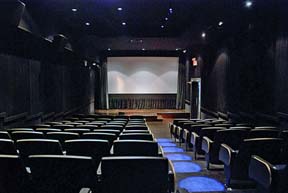 Yet another Williamsburg dinner-cinema hot spot, this complex features both a top-notch restaurant (with sushi and Italian entrees) and a full bar.  Its one screening room features both classic movies and new indie films.  Although alcohol is not permitted inside the theater, a full comfort-dining arena is set up for comfortable dining.  Soups, salads and hot-dog related concessions are also available.  It is recommended that you arrive 30 minutes prior to the film screening.  Tickets are $12 for general admission, $10 for students and seniors.  More information at: www.indiescreen.us
Location: 285 Kent Avenue, Brooklyn, NY 11211.  Phone: 347.512.6422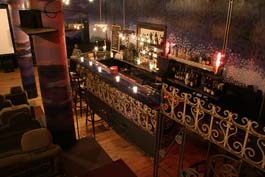 Dubbed the 'indie cinema with a buzz,' this dinner- cinema (in association with the funky gastropub reBar) is anything but traditional.  From its 60 reclaimed car seats (which serve as movie theater chairs) to its full bar and gourmet snack counter, this cinema setting makes for an intimate and incredibly indie movie-going adventure.  Food favorites include our favorite, 'The Twist, 'a handmade Brooklyn pretzel stuffed with ground beef, three cheeses, garlic mashed potatoes or polenta.  Assorted pastries and various flavors of popcorn are also popular.  Tickets are $7/person.  Come early to secure seats.  Showtimes, tickets and reviews can be found on: www.reruntheater.com
Location: 147 Front Street, Brooklyn, NY 11201.  Phone: 718.766.9110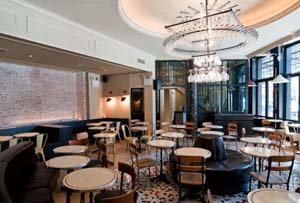 This fabulous, open-air trattoria launched its Monday night, Cinema Italiano series early this past summer and has been screening a prime selection of films starting at 8:30pm.  The films range in genre and length with themed months.  Chef Todd Macdonald's menu of fabulous pastas and other Italian staples go perfectly with the cinematic mood.  Try the caccio e pepe in combination with a light, crisp rosato.  Check out the full list of menu specialties at www.villapacri.com/lagazzetta.  Call ahead to ensure that there is a screening.
Location: 55 Gansevoort Street, New York, NY 10014. Phone: 212.924.5559
***Given the great success of these dinner cinemas in Brooklyn, there is a strong desire to expand into Manhattan.  Recently, AMC theaters have announced the possibility of bringing liquor into their cinemas.  A new state law allows you to bring your own alcohol into a cinema as long as there is a restaurant within the premises, although not all cinemas concur.  Will this enhance or stigmatize the movie industry, as we know it?  Currently, both Nitehawk Cinema and indieScreen are not allowed to serve alcohol within their respective theater rooms but hope to be able to do so in the near term.