This is a big weekend for the arts in Brooklyn, with two major events happening in exciting, lively DUMBO.  DUMBO, the District under the Manhattan Bridge, is recognizable from many TV shows and films (especailly Woody Allen films).    From here, you'll get an astonishing view of Manhattan across the river, a chance to walk on cobblestones that hearken back to the city's glorious past, and areas to wander among the warehouses which have now been converted to restaurants and boutiques.  In addition, the area's wonderful, new Brooklyn Bridge Park is a delight, with its hills, promenades, and play areas.  The Park is bordered by Atlantic Avenue to the south and Jay Street to the north and runs along the Brooklyn waterfront.  brooklynbridgeparknyc.org
Two free events at the park warrant your attendance:
Photoville – Photoville is a Brooklyn-based photo destination, a pop-up village of freight containers transformed into temporary exhibition spaces, which runs through September 29 on the Uplands of Pier 5. The event includes a mix of exhibitions, lectures, hands-on workshops, night-time projections, a photo dog-run, a camera-flower greenhouse, and a summer beer-garden with food trucks.  The containers themselves offer up great photographic possibilities. The site covers more than 60,000 square feet in the heart of Brooklyn Bridge Park.  A full schedule of events can be found at http://photovillenyc.org/schedule/.  www.photovillenyc.com.  Weekend hours are Friday 4pm to 10pm; Saturday noon to 10pm; and Sunday noon to- 8pm.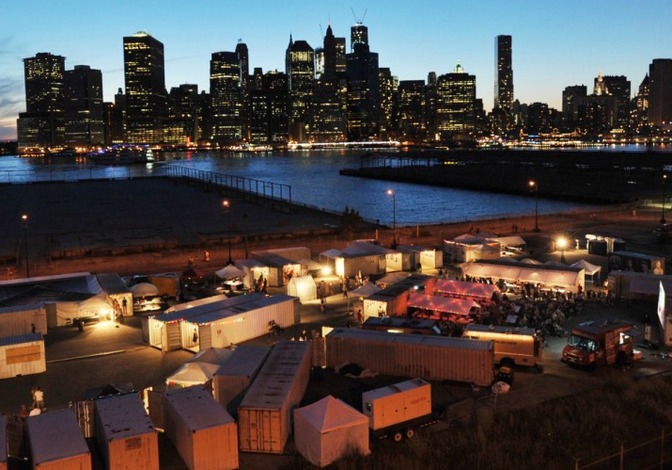 The DUMBO Arts Festival is a non-commercial, welcoming presentation of local, national and international art set against the breathtaking backdrop of the Brooklyn Bridge and the Manhattan skyline. More than 400 artists from a variety of disciplines will be showcased.  Traditional to avant-garde pieces are highlights, and outdoor projections are on view through midnight each night. Festival hours are Friday 6pm to 9pm, Saturday noon to 9pm, Sunday noon to 6pm. Art revelers can enjoy outdoor and indoor visual art installations and exhibitions, digital art and large-scale projections, visiting artists in their studios or making murals on the street, dancers, poets as well as performers throughout the neighborhood, on street corners, and in the park.  Plan to spend a few hours!
The DUMBO Arts Festival spans the neighborhood of DUMBO, Brooklyn, between the Brooklyn and Manhattan Bridges, including the waterfront.